International Women's Day 2020 campaign theme is #EachforEqual
An equal world is an enabled world.
Individually, we're all responsible for our own thoughts and actions – all day, every day.
We can actively choose to challenge stereotypes, fight bias, broaden perceptions, improve situations and celebrate women's achievements.
Collectively, each one of us can help create a gender equal world.
Let's all be #EachforEqual.
Technology has shown many wonders in the field of healthcare. If you have been facing difficulty with your fitness routine, it has got this covered for you too. HYPOXI is one of the solutions which doesn't require too much effort on your part.
You will be able to see the desired results in very few sessions. HYPOXI devices are available everywhere and are gaining importance in the lives of fitness seekers. If you are one of those, you need to gain some awareness of their capabilities of the HYPOXI treatment by various machines.
This article aims to shed light on the capabilities of HYPOXI devices that make them effective for your fitness regime.
4 Capabilities of HYPOXI which facilitate fitness routine
HYPOXI based treatment requires both the physical training and therapy to facilitate you in your fat loss goals.  HYPOXI treatment combines a routine of low impact exercise with the use of technology and a healthy diet. It burns fat, improves circulation, prevents and reverses some diseases, reduces cellulite as well as water retention.
It is very effective, and thus many people in the UAE have been suggesting them to their friends and families in recent times. If you live there, you can also get HYPOXI treatment in Dubai from a reputable source. The treatment facilitates you with its following capabilities:
1. Assistance during plateaus of the fitness regime
The fitness regime is hard on many people. For some, there are a lot of highs and lows. For others, there are big leaps that require you to step out of your comfort zone. The HYPOXI treatment has a multifaceted approach towards fat loss efforts.
Thus it makes it easier for you to overcome the plateaus that come your way during your fitness regime. When you are aiming for a targeted fat burning, it comes handy by improving the level of absorption of mineral in your body.
2. Helps reduce the lactic acid accumulation
When the human body exerts as a result of high-intensity exercise, lactic acid accumulates in the muscles. This produces a burning sensation within the muscles. Lactic acid is a byproduct of anaerobic metabolic activity.
This kind of metabolism takes place when the body is producing energy without using oxygen.   HYPOXI encourages low-intensity exercise and is a non-invasive method of melting excess fatty tissues. It decreases pain by eliminating the inflammation caused due to lactic acid deposits. Thus this treatment is helpful in the reduction of the accumulated lactic acid.
3. Stimulates lymphatic system
The lymphatic system is the system of blood vessels that a human body contains. With excess fat and toxins in the body, the flow of blood in these vessels can face hindrance. With a lack of ease of flow of blood, you may have a deteriorated rate of blood circulation than you require for a healthy life.
HYPOXI lymphatic drainage machine helps improve lymph flow and destroy fat cells. Thus HYPOXI treatment stimulates the lymphatic system and takes you a step closer to your fitness goals achievement.
4. Skin tone improvement
Skin tone is one of the least discussed areas in fitness, but it is very closely related to it. If you feel your skin tone has been affected by your low fitness levels, your concern is justified. HYPOXI treatment helps oxidize the toxins through your skin as well.
Thus you get better, rejuvenated skin. It also reduces the cellulite formed under your skin and helps get rid of the orange peel effect apparent on various areas of your skin. Thus, HYPOXI treatment can help achieve balanced and improved skin tone.
Looking forward to getting HYPOXI treatment?
HYPOXI is a very useful gift that technology has brought forward. It promotes your body metabolism and detoxes your body. It also reduces the chances of the development of any kind of cancer in your body. With a higher stimulation of your immune system, it enables you to be less vulnerable to common diseases as well as strokes.
It is a non-invasive treatment that reverses the degenerative diseases and purifies your blood. It also improves the rate of metabolic activity, thus elevates the chances of losing hundreds of calories within half an hour of the HYPOXI session.
Owing to its countless health benefits and effectiveness in gaining success in fitness goals achievement, people in Dubai have been rushing towards centers offering this treatment. If you live there, you can also go to such a clinic for getting treatment of HYPOXI Dubai to ensure you get another step closer to your fitness goals.
The results may vary depending on an individual's age and inherent factors, and the treatment is not a substitute for the consultation of a medical practitioner. You must seek expert advice to be on the safe side.
Here's to a healthier and happier life ahead!
It's no secret that moving more helps us to be fitter and healthier. Research shows that as little as 30 minutes of exercise per day can boost our general health and well-being. What are some other benefits of getting in half an hour of exercise every day?
1. Heart health
Stroke, cardiovascular disease, metabolic syndrome, diabetes – minimise your risk with a half hour gym session and keep your heart and blood flow happy.
2. Weight loss
Yep – even half an hour of exercise per day can help you to prevent excess weight gain or maintain weight loss. Stick to high-intensity sessions to burn more calories – if you're struggling for time, get more active in your day to day duties (e.g. taking the stairs or walking to work).
3. Reduce stress
Exercise increases the amount of norepinephrine in your body – the chemical that can moderate our brain's response to stress and stressful situations. If you've had a tough day, go ahead and get sweaty — a quick work out can reduce stress, as well as boost your ability to deal with existing mental tension.
4. Mood booster
That hatred you can have for your running shoes? Put it to good use in a quick HIIT session – physical activity stimulates chemicals in your brain to leave you feeling happier and more relaxed. Plus, who doesn't enjoy the post-exercise endorphin rush?
5. Energy burst
When your energy levels are at zero, it can be tempting to skip gym in favour of Netflix – but that half hour of exercise can give you the boost you're looking for. Delivering oxygen and nutrients to your muscle tissues while helping your cardiovascular system to work more efficiently, exercise will give your body the shake-up it needs to continue working effectively.
6. Improve memory
If you're looking to boost your powers of recollection, take a half hour trek around the neighbourhood. Exercise increases the production of cells in hippocampus responsible for memory and learning.
7. Increase productivity
Ever feel like your afternoon coffee break just doesn't cut it? Taking a half hour walk during your lunch break could be the difference between a 2pm slump and a productive afternoon. Research shows that workers who take time away from their desk to get moving are more productive than their sedentary co-workers.
8. Tap into creativity
Writer's block can't be avoided by staring extra hard into your laptop screen, so get away from the computer for a half hour exercise session instead. Refreshing and recharging with some outdoor exercise could be your ticket to creative heaven.
9. Improve self confidence
We all have days where we feel less than average – half an hour of exercise could be the difference between a self-pity sob session and a well-deserved hit of self-confidence, so get sweaty. Your body will thank you in the long run.
When setting out on a health kick or weight loss journey, we all know how important diet and exercise are, but did you know that stress also plays a role? Even if you eat well and exercise daily, stress can wreak havoc on your health, and it's all thanks to a little hormone called cortisol. 
Cortisol is naturally released into the bloodstream in times of stress and is automatically regulated by your body. For short term bouts of stress triggered by the famous 'fight or flight' response, cortisol levels temporarily spike, but are quickly returned to a regulated level, however prolonged periods of stress can result in the production of too much cortisol, which can have a negative impact on your health, and in particular, your waistline. 
When cortisol levels rise, so too does the body's insulin levels, causing an immediate spike in blood sugar levels, followed of course by the inevitable sugar crash. This leads to the body craving foods high in sugar, salt and fat as a means to regain energy. 
Signs your body might be producing too much cortisol: 
Elevated blood pressure 
Suppressed immune system 
Stomach ache 
Difficulty sleeping 
Unhealthy food cravings 
Depression 
Weight gain 
Irritability 
Cold and flu symptoms 
These factors might be causing your cortisol levels to spike: 
Overcommitted schedule 
Working long hours 
Exercising more than once a day 
Doing a lot of HIIT training 
Drinking excess caffeine or alcohol 
How to lower your cortisol levels, naturally: 
Limit consumption of caffeine and alcohol 
Exercise regularly, but at a moderate level (limit HIIT training to 1-2 per week)
Practice mindfulness or meditation 
Get 8-9 hours of sleep every night 
Switch off from technology a few hours before bed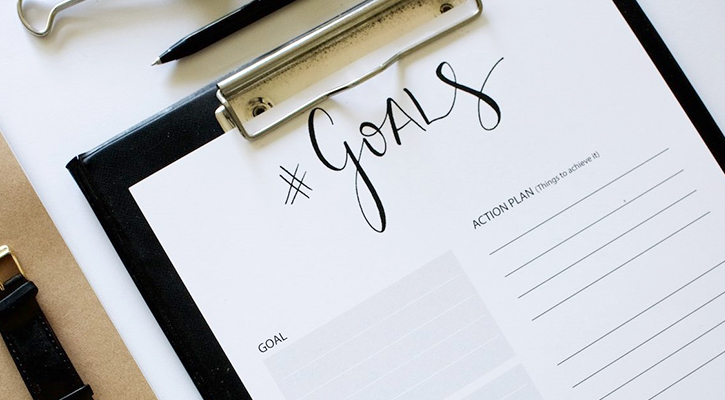 Hands up those of you who start every new year with a long list of health and fitness resolutions you're determined to uphold? Now keep your hand up if you get to March and realise you've fallen off the bandwagon? FYI – our hands are up too. Our point is, that you don't need a new year to set new goals… so to prove it, we thought it was time for a mid-year goal check-in.

Our goals are as unique as we are, so whether it's fitting back into your favourite pair of jeans, getting bikini confident in time for summer or simply challenging yourself to commit to something new, think about what you really want to achieve, because having a clear goal will help you stay motivated and on track.
Having this overarching goal in the forefront of your mind will help hold you accountable and pull you out of bed on those mornings you just don't want to get up, it will stop you from ordering that burger and fries when you really want them and it will help you stay on track when you feel like giving up.
Once you decide on your goal, make sure it's smart. Specific, measurable, attainable, realistic, timely.
Put your goal to the smart test and stack it up against the below criteria to increase your chances of achieving it!
Specific:
Goals that are too vague are hard to achieve… think: who, what, when, where, why?
Measurable:
If you can't quantify the goal, how do you know when you've achieved it?
Action plan:
Can you break it down into smaller, more manageable steps
Realistic:
It it possible for you to actually achieve it?
Timely:
Remember, a goal without a deadline is just a dream.

So if you want to lose weight, don't generalise and say "I want to lose weight"… where's the accountability? Set a smart goal, reframe the situation and try saying "I want to lose 2kgs in 8 weeks".
Lower body fat is a common problem for ladies, thanks to hormones, lifestyle choices and genetic predispositions. Sometimes, it feels almost impossible to get rid of this stubborn fat.
It was no different for our Smartest Loser Amal, a 35-year-old housewife who constantly struggled with her weight and body shape. A pharmacist by background, she knows how important it is to get rid of fat around the belly. When she heard about BodySmart from her sister-in-law, Amal immediately booked her free trial and consultation at the BodySmart Umm Suqueim 2 branch.
FIRST IMPRESSIONS
With no idea of what to expect from HYPOXI, Amal imagined it to be very hard. "Soon after I started my combination course of Dermology & S120, I saw my body shape rapidly change & that is when I realized HYPOXI is actually the easiest exercise I have ever done!"
THE RESULTS
"My results are very satisfying. I lost 1kg and 13.5cm in just 6 sessions which is much more than I expected." declares a happy Amal!
In 15 sessions, you can expect to lose up to 3kg and 25cm of stubborn fat &  smooth cellulite.

Simply put, by combining technology with gentle exercise, HYPOXI is a smart way to get the body shape you are after with quick 30 minute sessions.

THE EXPERIENCE
Amal enjoys coming to BodySmart as she finds the staff 'very friendly and super cooperative'. On her favourite thing about HYPOXI, Amal says "Firstly, I love that I lost so many centimetres. I enjoyed the Dermology as it feels like a pain-free and relaxing massage. It helped me boost the results of S120." Used on its own, Dermology helps to improve the skin tone and texture with 20-minute sessions.
THE NEXT STEPS
Amal feels a lot of difference after starting her Hypoxi journey. Not only does she feel lighter, but she is also more active than she was before. "I would love to continue my HYPOXI
sessions to continue losing more weight and cms.
Looking to kick-start your weight-loss journey with HYPOXI? Contact the studio nearest to you for a FREE TRIAL. Call 043638318 or visit www.bodysmart.ae/book-free-trial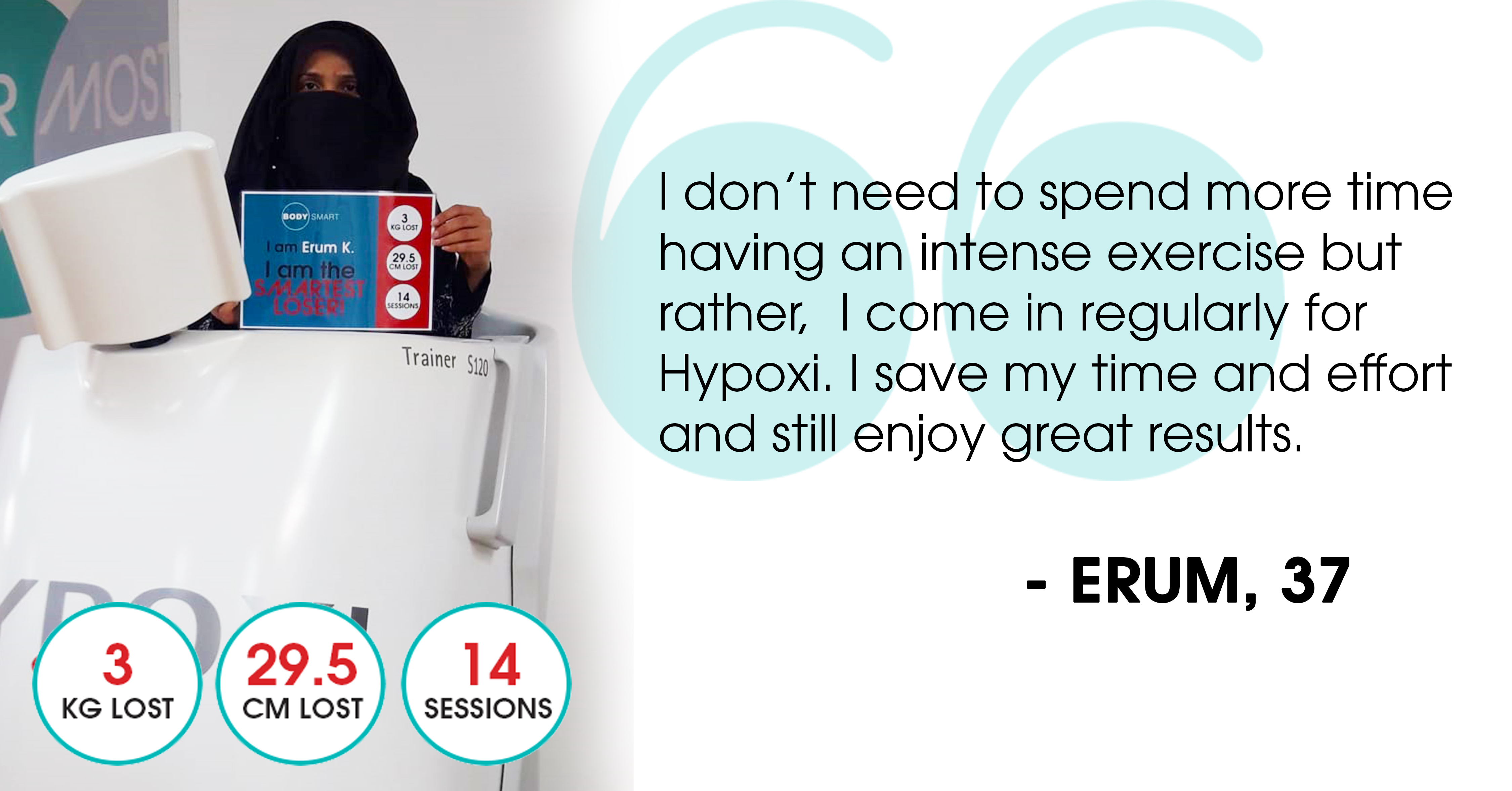 Fat loss can often be a frustrating process. You have tried different diet plans. You lead an active lifestyle and have been a regular at the gym, yoga and running sessions yet, the fat on your lower body just won't budge. Does this sound all too familiar to you? Don't fear as the lower body is a common problem area for women, thanks to the poor blood supply owing to our genetic predisposition.
It was no different for our Smartest Loser Erum Kumail a 32-year-old who was frustrated with several years of effort with little results. Erum even started to believe that getting a perfect body with slim legs would only remain a dream.
She finally decided to search online for an effective and natural solution to stubborn fat and found out about Hypoxi. Without waiting another minute, Erum called BodySmart to book her free trial and consultation.
FIRST IMPRESSIONS
Erum was initially sceptical as she had never met anyone in her circle who had done Hypoxi before. Moreover, she had tried almost every form of exercise and diet which helped her lose weight but never from her problem areas. Nevertheless, she decided to sign up for a course of Hypoxi S120 to target fat and cellulite on her lower belly, hips, bottom and thighs.
A few sessions into her course, Erum could already feel a difference in her body. "I was really happy with my decision to sign up for the Hypoxi program. After only a few sessions, I started losing weight and cms from my targeted areas. I realized that in all these years, it was Hypoxi I was looking for. Yes. It actually works!"

THE RESULTS
Erum lost an amazing 3kg and 29.5cm in just 14 sessions of Hypoxi.
Erum can't describe in words the satisfaction and happiness of achieving the results she has always wanted. "I don't need to spend more time having an intense exercise but rather, I come in regularly for Hypoxi. I save my time and effort and still enjoy great results." she declares.
HYPOXI combines 30 minutes of gentle exercise with technology and healthy nutrition for targeted fat loss. Imagine losing a cm per session of Hypoxi instead of doing 90 minutes of cardio in the gym.

THE EXPERIENCE
Erum is ecstatic about her experience at BodySmart. She thanks the friendly staff who motivated her and were very informative during her Hypoxi journey. In addition, she has noticed how the benefits of Hypoxi extend past weight and cm loss. "I see several positive changes in me. My mind is relaxed, the mood is better, stress levels have reduced, and I have found a level of discipline in my sleep and eating habits that I couldn't maintain before. I feel so light and energetic. More importantly, I have gained back my confidence." Erum elaborates.
THE NEXT STEPS
A very positive Erum affirms "I will definitely continue with a maintenance program of Hypoxi at BodySmart." says a happy Erum.
Are you struggling with fat and cellulite in your problem areas despite regular exercise? We at BodySmart will help you obtain the body you want without resorting to surgery or invasive treatments. Contact the nearest HYPOXI studio today! Book your FREE TRIAL. Call 043638318 or visit www.bodysmart.ae/book-free-trial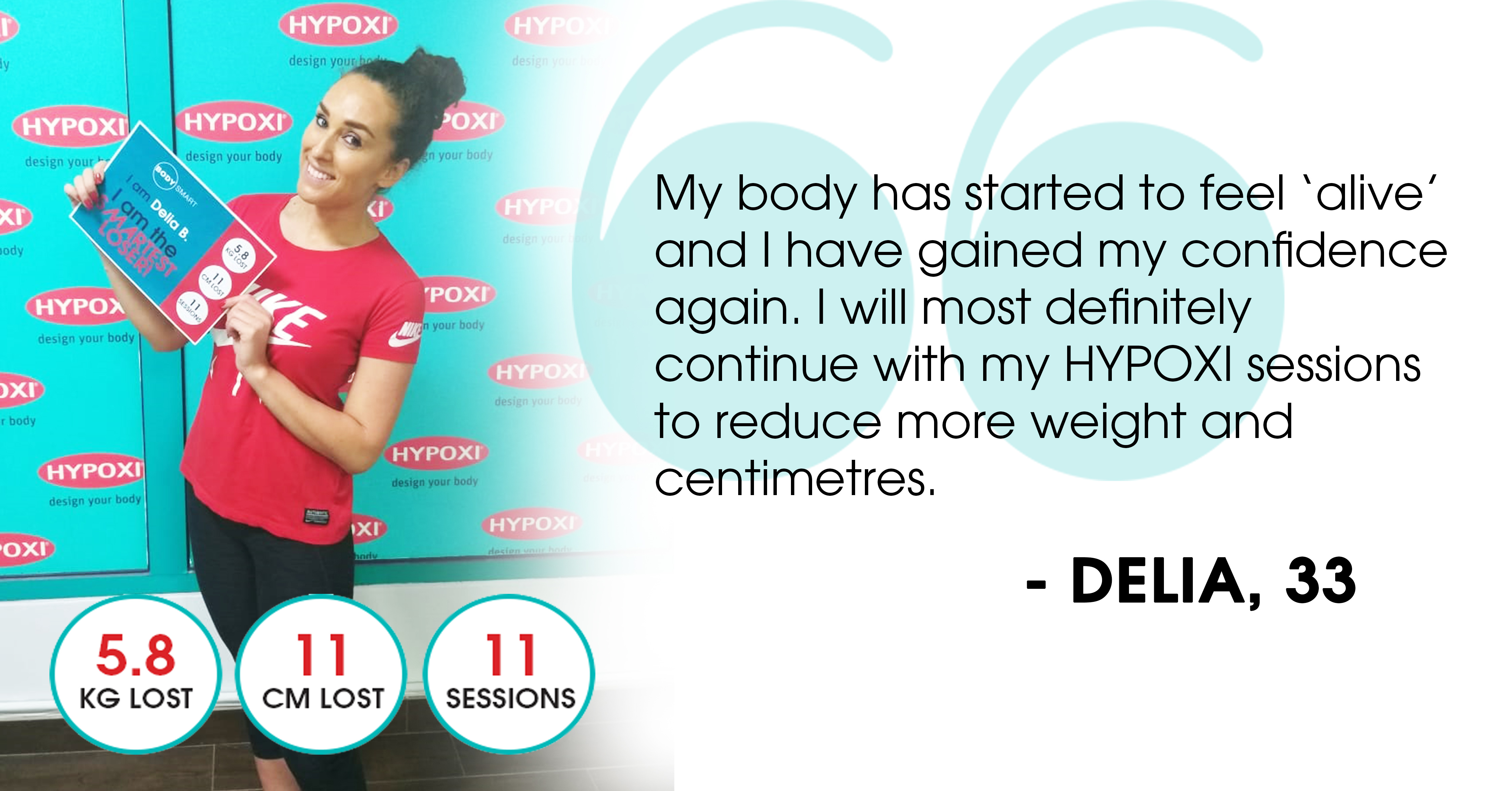 Keeping up with a fitness routine and eating healthy is easy for those of us who lead a life on the ground. However, for a flight stewardess with a dynamic job and an erratic schedule, this often becomes tough.
Meet Delia, a 33 year old flight attendant with a leading airline in the UAE who struggles to maintain her shape when flying. "I love visiting new cities but the late nights, long flights through different time zones and lack of regular exercise can lead to unexpected weight gain."
FIRST IMPRESSIONS
"I was very unhappy with my body shape, my weight and the quality of my skin. In fact, I had lost my self- confidence." says Delia.
Desperate to keep her weight in check, she tried several diets and exercises that just did not work for her body. One day, during a visit to Beauty Connection Spa, she heard about Hypoxi. "After trying everything else, I thought to myself 'Why not give HYPOXI a try?' and I booked my free trial session on the Hypoxi L250. The concept and ambience were perfect so I signed up for a course immediately after my trial."
THE RESULTS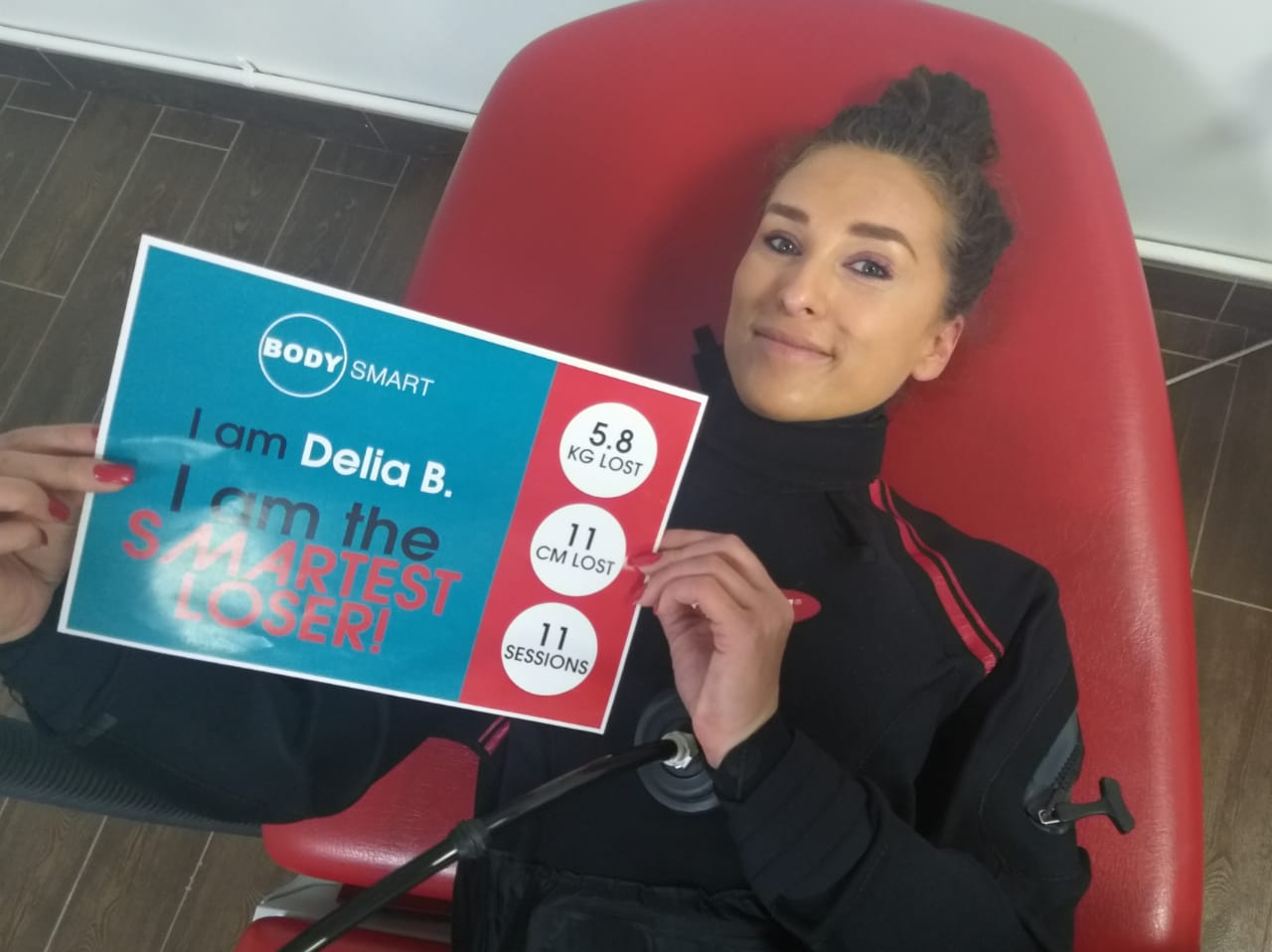 Delia's focus and motivation to come in consistently for her Hypoxi sessions helped her lose an amazing 5.8 kg and 11 cm in just 11 sessions. "It has worked very well for me, I am extremely happy with my results and the professional staff who always motivate me and remind me that 'I can do this. I lost half a kg and 1 cm with every session!".
THE EXPERIENCE
"I fell in love with the HYPOXI concept right after my trial session. The technology-based exercise has helped me to lose centimetres while listening to music or catching up on the latest series on Netflix". Delia is now thankful to HYPOXI for being able to join her friends to the beach and pool which is something she avoided for a long time before.
THE NEXT STEPS
Hypoxi has now become a part of Delia's lifestyle. "My body has started to feel 'alive' and I have gained my confidence again. I will most definitely continue with my HYPOXI sessions to reduce more weight and centimetres."
Are you a flight attendant who is struggling to keep your weight in check? Or do you simply need to kick-start your weight-loss journey? Contact the nearest HYPOXI studio today! To book your FREE TRIAL, call 043638318 or visit www.bodysmart.ae/book-free-trial
Modern day existence has led many of us to lead an increasingly inactive routine. Of course, the older we get, the more likely it is for us to lapse into a sedentary lifestyle. An easy way to get over this is to focus on getting active for only 30 minutes daily 3 times a week.
Meet Saad, a 52 year old banker in Dubai. His desk job and sedentary lifestyle only made it more difficult for him to lose weight and keep the inches off. Knowing that this could lead to several health conditions combined with a desire to lose his waistline, Saad researched on quick and natural solutions to lose his belly fat. That's when he found out HYPOXI and booked his free HYPOXI trial session at the nearest branch.
FIRST IMPRESSIONS
"I found my HYPOXI trial session to be very effective and easy. If losing my belly fat only involved walking briskly on the treadmill with a Vacunaut pressure suit, I was definitely ready. " Saad affirms. He immediately signed up for a course of VACUNAUT to target his stubborn fat with just 30 minutes sessions.
THE RESULTS
Saad lost an amazing 5.4 kg and 13 cm in just 13 sessions. "I feel a lot lighter and have more energy than ever before thanks to the combination of HYPOXI's disciplines and technology based exercise" he added.
THE EXPERIENCE
"It is a very positive environment and as you can see, my results are phenomenal in a short span of time. The staff are very friendly and knowledgeable which helped me in my journey." Saad declares that the best thing about HYPOXI is that it is completely natural, non-invasive and pain free.
THE NEXT STEPS
While Hypoxi is 3x more effective at targeted fat burning, some individuals may have a long term body goal. "I will definitely continue my HYPOXI sessions to reduce another 5kg." concludes a determined Saad.
Kick-start your HYPOXI weight-loss journey with us. Contact the nearest HYPOXI studio today! Book your FREE TRIAL NOW. Call 043638318 or visit www.bodysmart.ae/book-free-trial/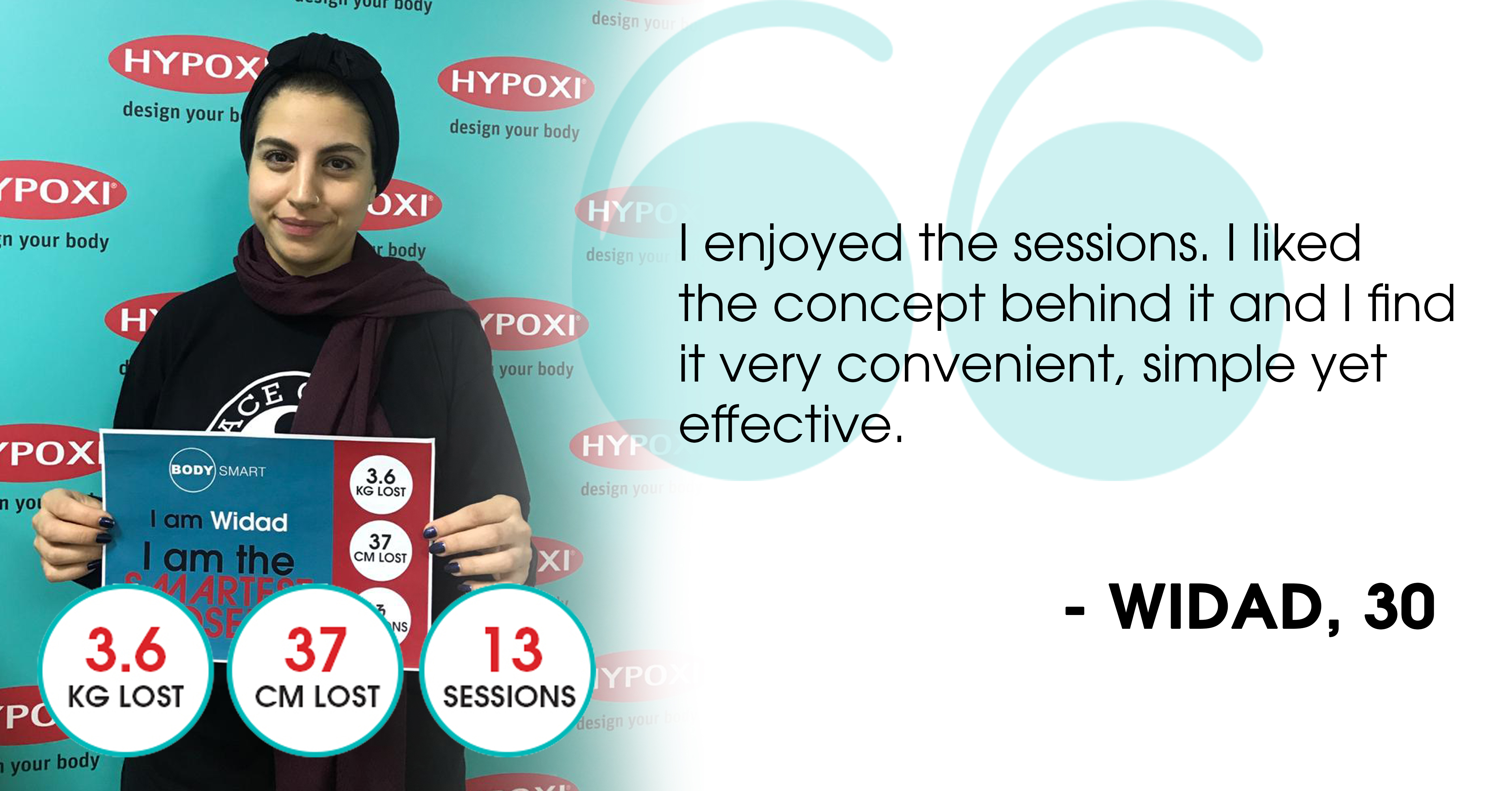 Struggling to stay consistent with our workout routine is awful. Sometimes we're on it. Our workouts fit perfectly into our schedule, our motivation is high, and we've got tons of energy. All is good. Until, suddenly, out of nowhere, we're sitting on the couch TV, realizing we already lose on the track
Meet our Smartest Loser, Widad, a 30 years old Design Consultant. She was inconsistent with her workout routine and frustrated with her overall shape. She found out HYPOXI from her colleague who does HYPOXI and she was amazed by the results.
FIRST IMPRESSIONS
"I was surprised when I saw the quick results of my colleague". So, Widad decided to sign up with Silver Membership combination of Dermology and S120. Dermology is highly effective method for skin training. HYPOXI S120 targeted the undesired areas like the lower belly, hips, bottom and thighs.
THE RESULTS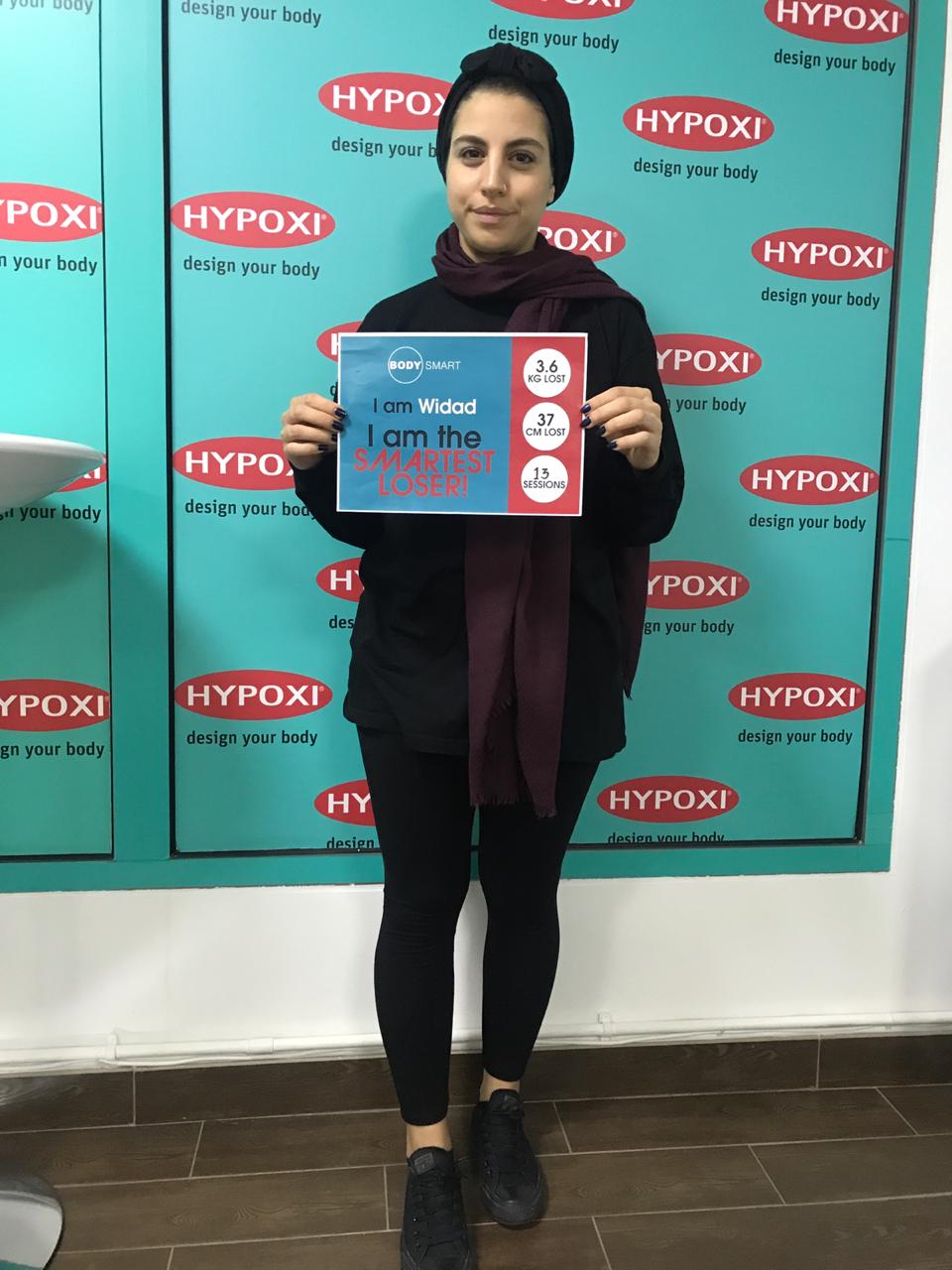 As a result, Widad lost an incredible 3.6 kg and 37 cm in just 13 sessions. "It was really great and surprising" HYPOXI is best-suited to men and women who feel like they've tried endless sessions at the gym or pounding the pavement only to find they can't shift those stubborn areas. Women especially are prone to holding extra weight on the thighs, lower stomachs and bottoms, so HYPOXI target those areas.
THE EXPERIENCE
"I enjoyed the sessions and I liked the concept behind it and I find it very convenient, simple yet effective" said Widad. She was happy that BodySmart Team helped her throughout her HYPOXI journey and became the Smartest Loser. "The team well explained the HYPOXI Disciplines to keep me on track"
THE NEXT STEPS
"I would like to see my final results until I finish my 3 month membership, perhaps I will join a new sports and activity for me to maintain my weight"
Let us support you on your HYPOXI journey with 30 minutes of gentle, technology-based exercise for targeted fat loss. Kick-start your weight-loss journey by booking your FREE TRIAL of HYPOXI or LPG. Call 043638318 or visit www.bodysmart.ae/book-free-trial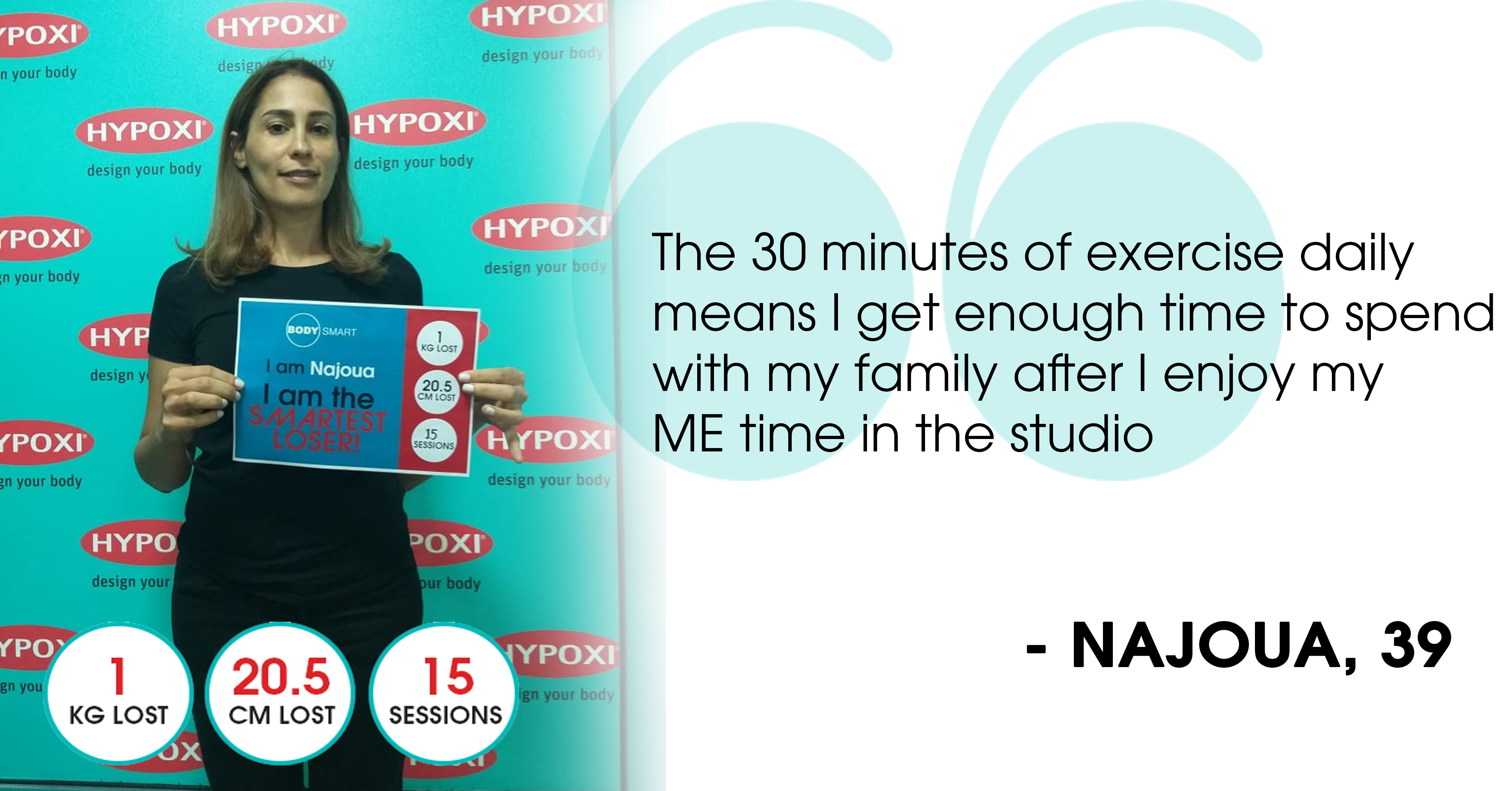 Weight loss can be a long and bumpy road, riddled with potholes in the form of cravings, stress, hormone fluctuations and other factors that can make your goal seem like a distant destination. Add to that, our lifestyle choices and habits can make losing excess weight even harder.
Meet our Smartest Loser, Najoua, a 39 year old Sales Manager and mum of 2 who has been having a tough time maintaining her shape, thanks to her frequent business trips out of Dubai.
FIRST IMPRESSIONS
Having tried Hypoxi S120 and Dermology many years ago at the Meadows Town Centre, Najoua immediately thought of the fantastic results she got from Hypoxi's gentle, technology-based exercise. Without a second thought, she got in touch with BodySmart at Beauty Connection Spa, Dubai to enquire about starting her Hypoxi journey again.
"After all these years of not doing Hypoxi, my shape had completely changed and I knew I needed to now target the fat on both, my tummy and lower body. I signed up for a combination course of Vacunaut and S120 to achieve the results I wanted."
THE RESULTS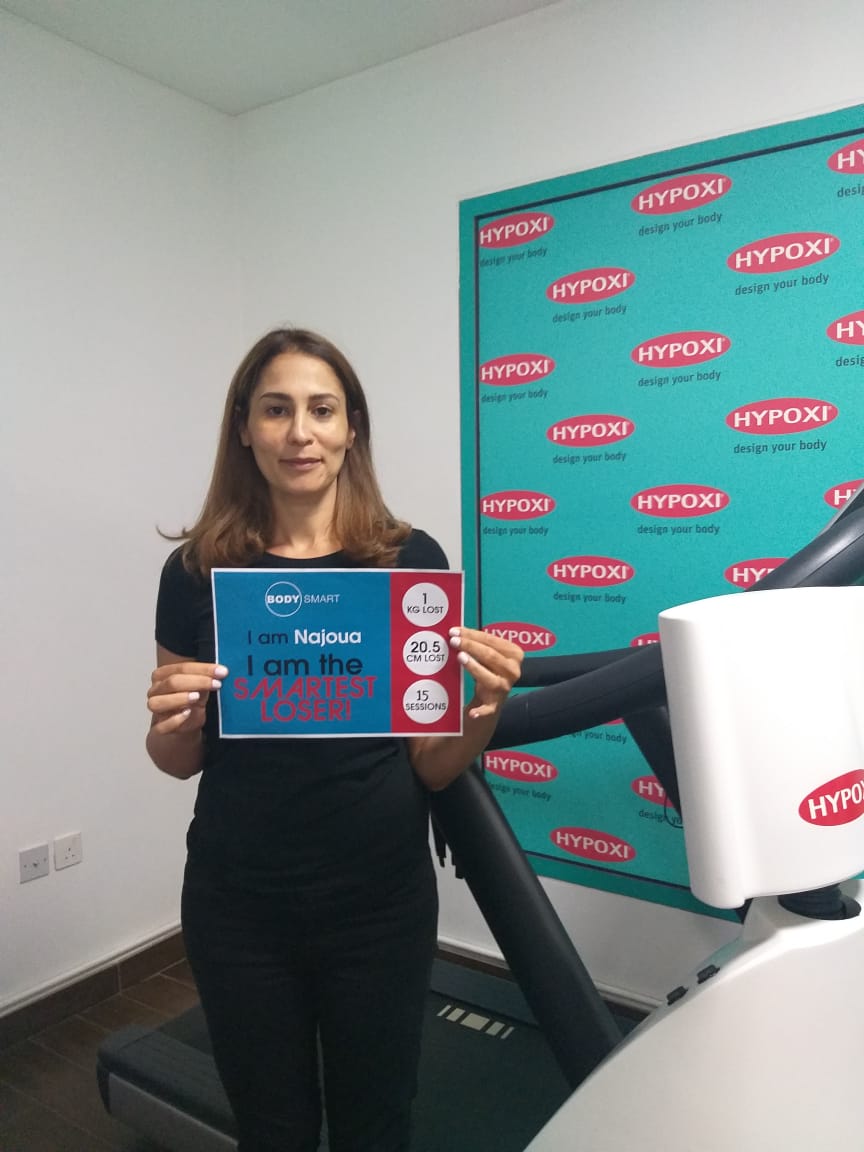 Najoua lost an amazing 20 cm after just 15 sessions. "I am finally getting back in shape" declares a very happy Najoua.  Visible results are achieved faster with Hypoxi than with conventional exercise by increasing blood circulation in problem areas.
THE EXPERIENCE
Najoua thoroughly enjoys coming in for her Hypoxi sessions. "You don't have to spare a lot of time to get great results, especially when you have kids. The 30 minutes of exercise daily means I get enough time to spend with my family after I enjoy my ME time in the studio
THE NEXT STEPS
Najoua knows that weightloss is not an overnight achievement and can sometimes take time. "I would love to continue my HYPOXI sessions to fit in to my favourite black dress from many years ago."
Are you looking to regain your shape or to smooth cellulite? Kick-start your weight-loss journey by booking your FREE TRIAL of HYPOXI or LPG. Call 043638318 or visit www.bodysmart.ae/book-free-trial
One of the most common reasons people give for not exercising is that they're too busy and don't have enough time. People often make time for the things that they think truly matter in life. Once you see some of the biggest consequences of not exercising, your perspective on the importance of exercise may shift and you may suddenly find yourself wanting to spend more time working out and investing in your future health.
Meet Jayanti, 29 years old, working as an Internal Auditor by profession. She was inactive in doing any kind of activity that will benefit to her health. She wasn't also getting enough protein. Like carbohydrates and fat, protein is a "macronutrient," meaning that you need relatively large amounts of it to stay healthy.
FIRST IMPRESSION
"I guarantee that Hypoxi is a low impact technology based exercise." She affirms.  Through advanced vacuum and compression technology and healthy nutrition Jayanti got the optimum results. She found out HYPOXI through a referral. So, Jayanti instantly decided to start HYPOXI because she was anxious about her weight and wanted to loss her unwanted fat. She signed up for HYPOXI S120, which targeted the belly, hips, bottom and thighs.
THE RESULTS
"I have never come across any form of exercise that is so rapid and effective and that burns fat from the areas of my body. I lost 3.9 kg and 25 cm in just a short period of time. HYPOXI is great as well as the team, they will totally look after you, and keep encouraging you to smash your goals!". As Jayanti body weight changed, her clothing needed shifting as well. Her diet has improved to a large extent.
THE EXPERIENCE
"It was awesome! HYPOXI aims to help me shaved a few centimetres from my problem areas." She said. The best thing about HYPOXI is completely natural and gentle. HYPOXI uses the technology of vacuum compression, alternating the use of high and low pressures in connection with moderate movement.
THE NEXT STEPS
"I would love to continue my HYPOXI sessions provided my work schedule permits".
Wanted to shed stubborn fat to help kick-start your weight-loss journey? Contact the nearest HYPOXI studio today! Book your FREE TRIAL. Call 043638318 or visit www.bodysmart.ae/book-free-trial
Do you also have a busy schedule and are struggling to get back in shape? Let us help you gain your confidence and support you on your weight loss journey with our gentle, technology-based exercise for targeted fat loss.  Book your FREE TRIAL today!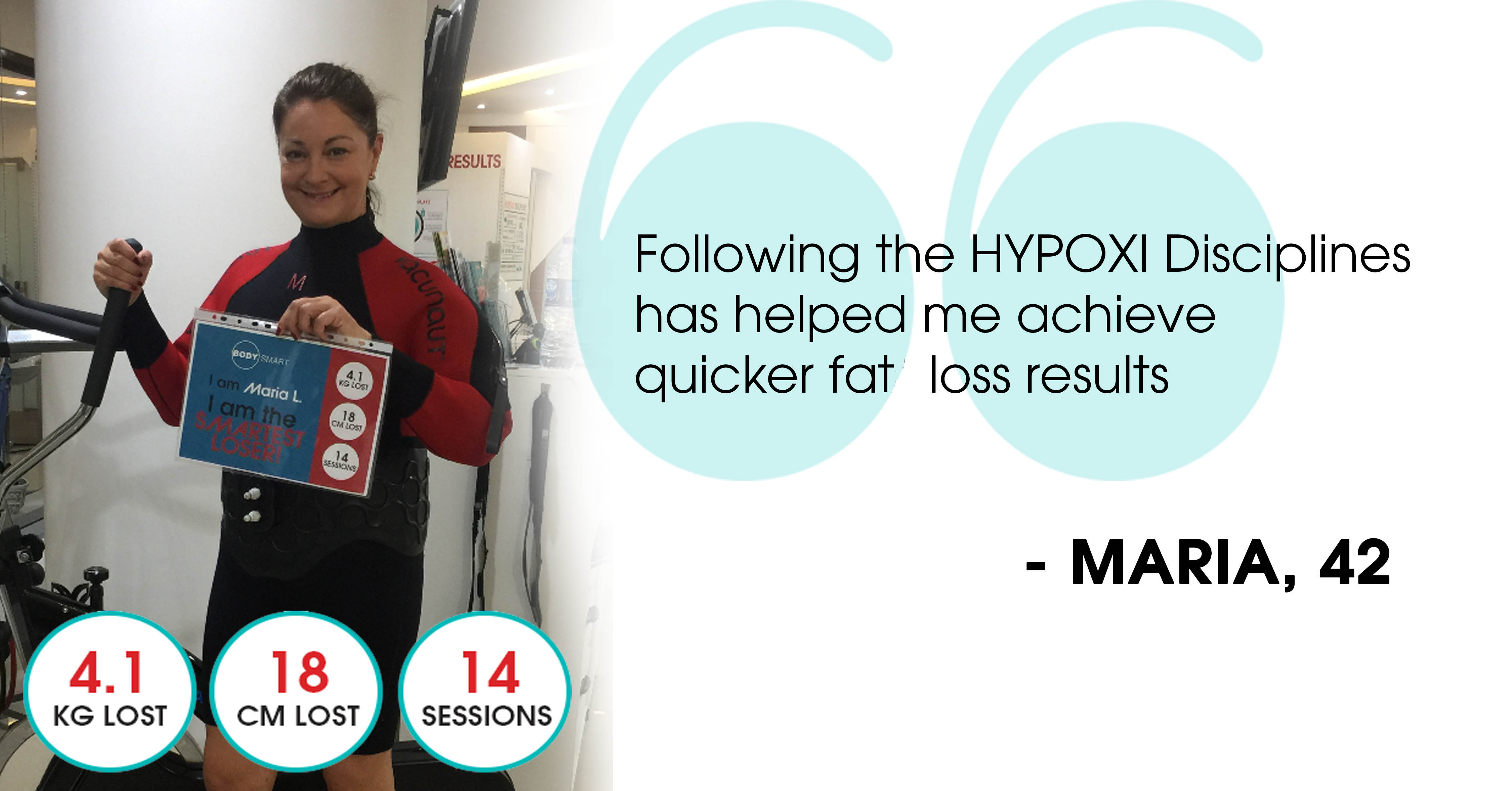 Active living and healthy nutrition are the foundation for a happier life. Yet, most women struggle with those notoriously troubled areas around the belly or the hips, bottom, and thighs. HYPOXI – your 'fat burning personal trainer', helps keep those areas in check to get you in your very best shape.
Meet Maria, a 42-year-old working as a Financial Services Director and a yoga addict! Yet, despite several hours of yoga sessions a week, she confesses to struggling with stubborn fat around her belly that just won't budge.
FIRST IMPRESSIONS
When Maria saw her 59 year old yoga instructor had dropped 3 dress sizes in a very short span of time, she couldn't believe her eyes! She asked her about her secret and immediately walked in to BodySmart to book her free HYPOXI trial and consultation.
"I found HYPOXI to be extremely easy and loved how informative and supportive the team was during my trial. Knowing that I was in safe hands, I signed up for a course of Vacunaut the very same day." affirms Maria. Vacunaut is the perfect solution to those people having a hard time burning their belly fat.
THE RESULTS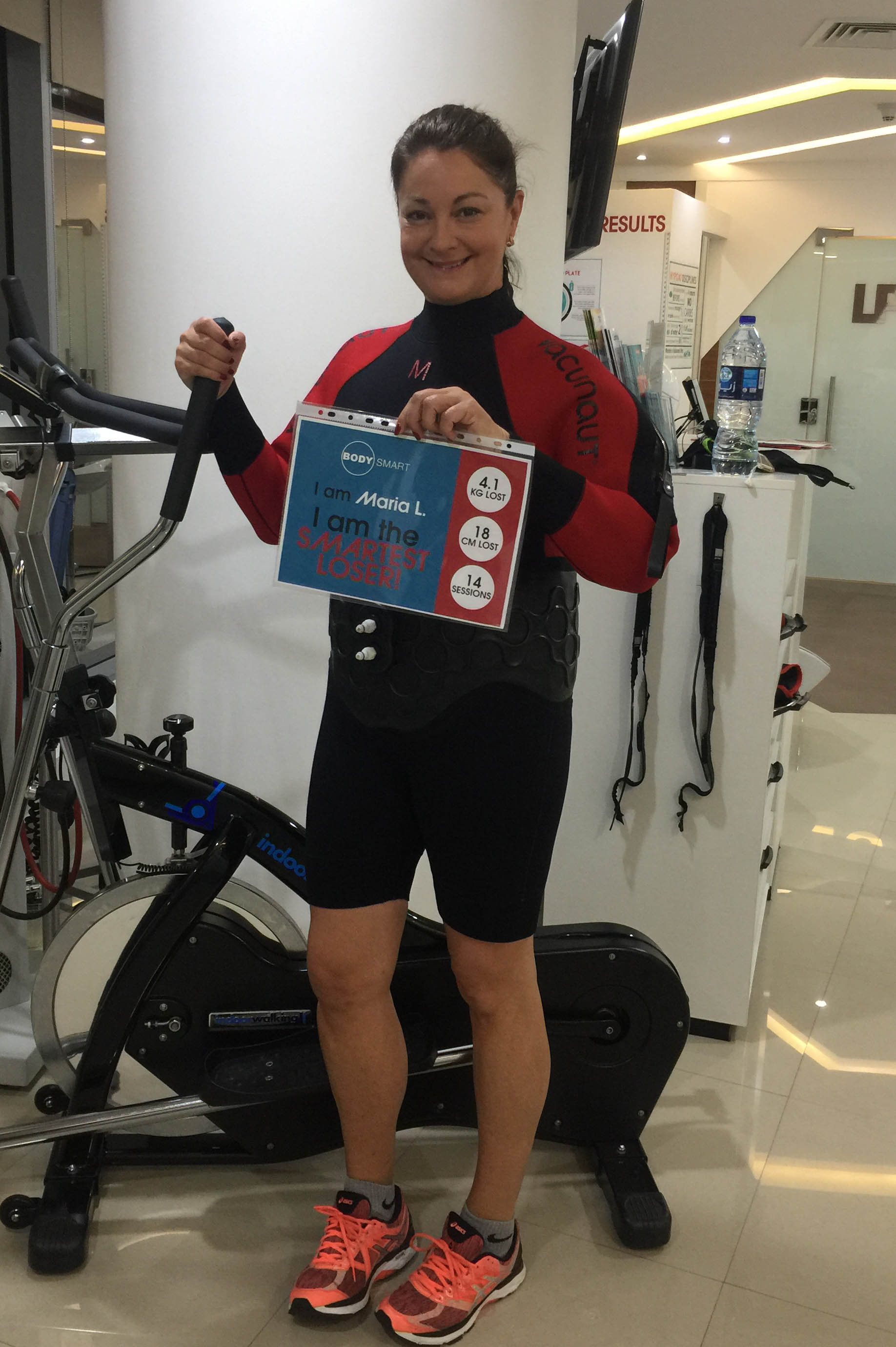 Maria lost an amazing 4.1kg and 18cm in only 14 sessions.  For many men and women, belly fat is the hardest to lose and keeping up with a strict diet is almost impossible.
The key to losing weight is to burn more calories than you ingest and dropping the amount of alcohol you drink can help lower your calorie intake further and help you get in shape quicker. While Vacunaut helps to target 60-80% of the fat around the belly and love handles, there are certain disciplines to be followed for optimum results.
"I cut down on my alcohol and make sure I do not eat post 8pm. This has definitely helped me speed up my fat loss results."
THE EXPERIENCE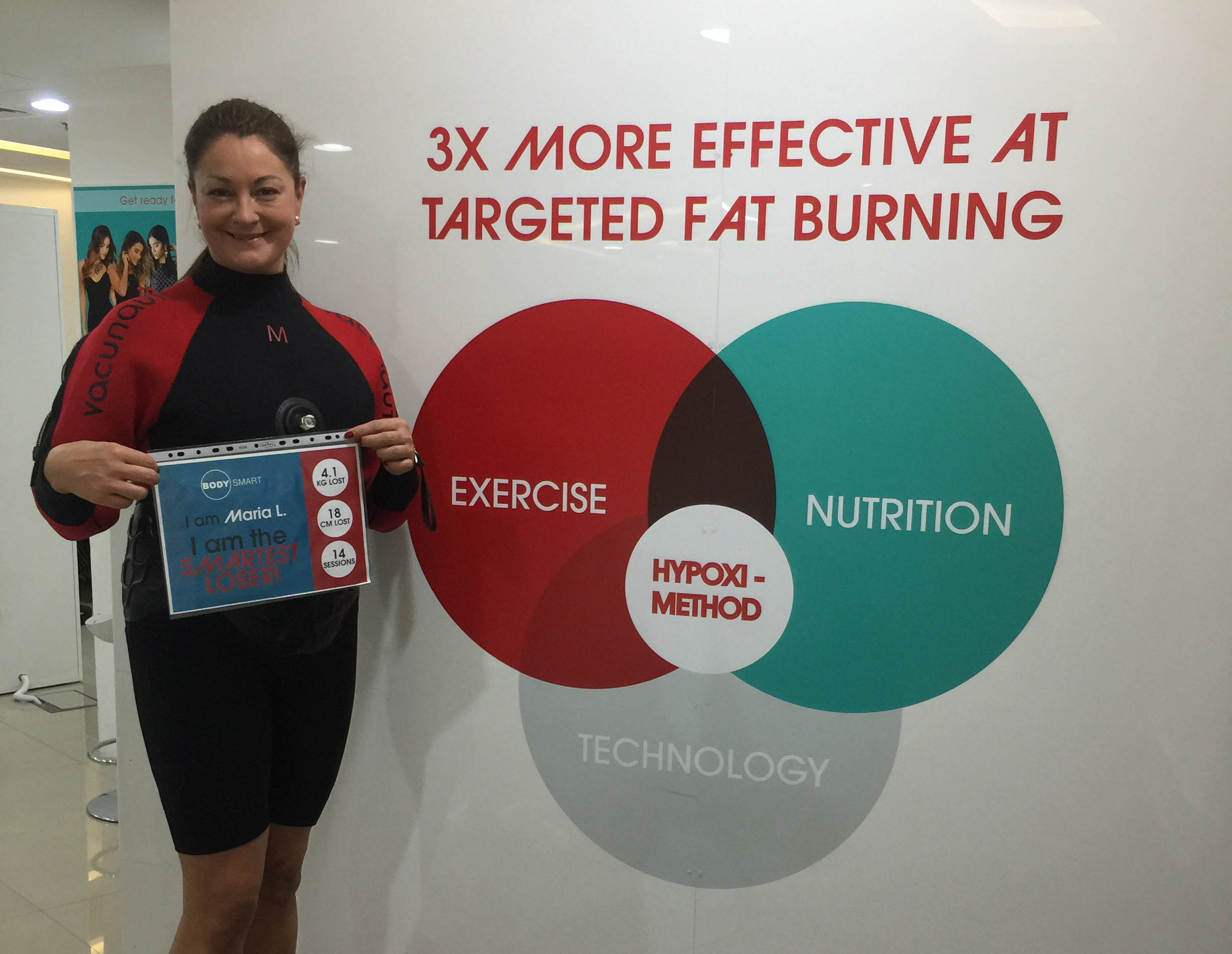 "I have never come across any form of exercise that is so effective at targeting fat from the hard to budge areas of my body. HYPOXI is great as well as the team that helps me stay on track at every single session"
THE NEXT STEPS
Maria knows that weight loss is not an overnight feat. "I have a long-term goal to lose 6-8kgs more. So I will definitely continue with my HYPOXI sessions until I reach my ideal weight".
Working 1 on 1 with an HYPOXI-coach will take you to the next level. To start your targeted fat loss journey by booking your FREE TRIAL now. Call 043638318 or visit www.bodysmart.ae/book-free-trial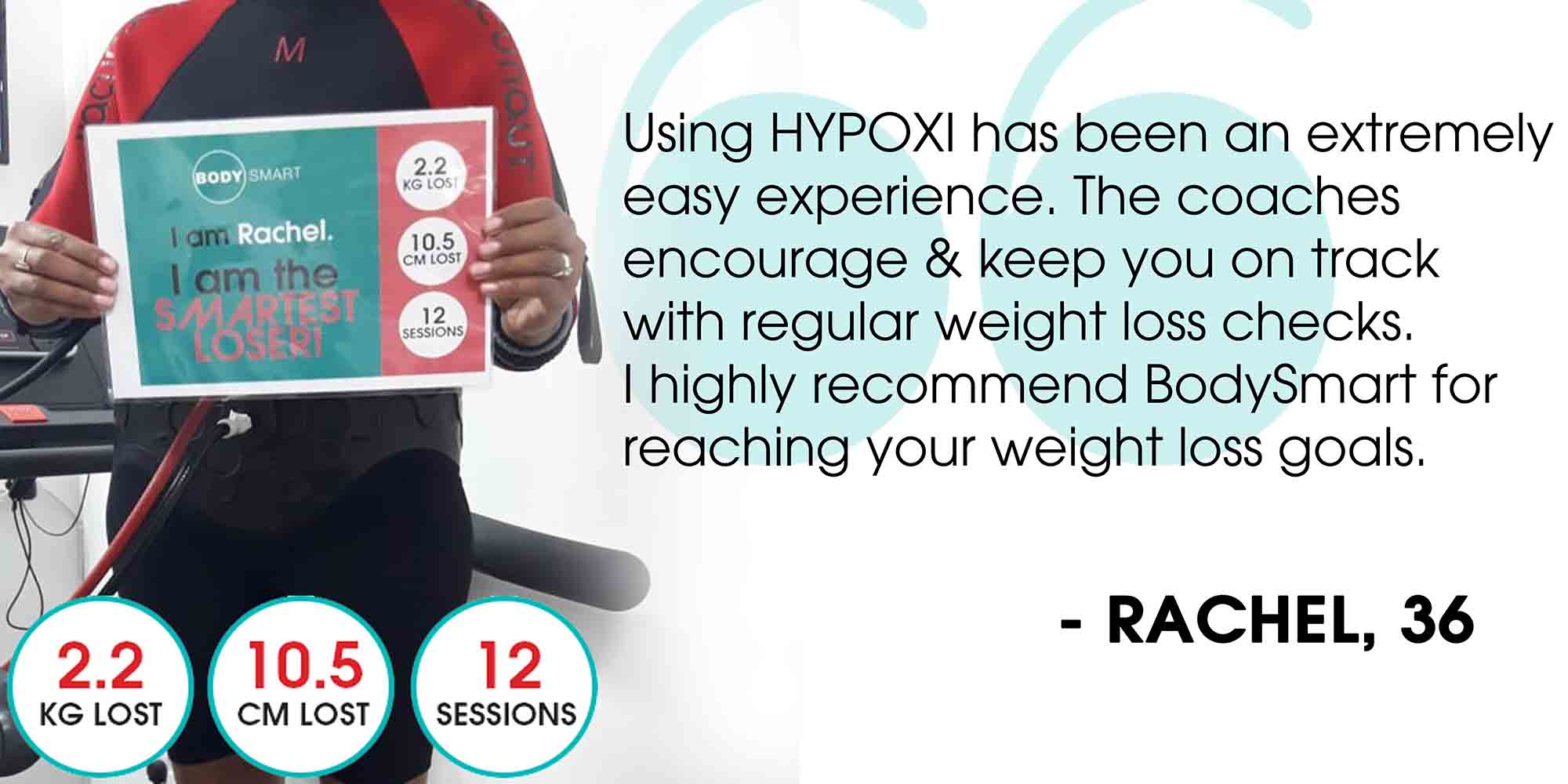 We all know how important it is to exercise regularly and nourish our body with a well-balanced diet to stay healthy. Yet, quite often, despite our best intentions and efforts, we may not get the results we desire.
Meet Rachel, our Smartest Loser for October, who moved to Dubai from the UK 10 years ago and works with one of the well-known international banks in Dubai. She confessed to leading an inactive lifestyle in the past. "Prior to HYPOXI, I simply didn't keep to a diet or exercise plan. I was 7 kgs over my ideal weight with excess fat around my tummy. Then one day, I found out about HYPOXI through a referral from a friend. I immediately decided to give it a try. I called up BodySmart in Breath and Health Alternative Medical Center and booked in for a trial session. "
FIRST IMPRESSIONS
Working in HR, Rachel's impromptu meetings made it difficult to stick to a fitness regime. When she came in for her trial session, Rachel realized how HYPOXI would perfectly slot into her busy life.
"During my trial, I was very impressed with HYPOXI. I knew immediately that I did not need to make any changes to fit the 30 minutes of gentle technology based exercise into my routine. The coaches were very professional and informative. They even kept me motivated during the trial session".  Without a second thought, Rachel signed up for a course of Vacunaut which successfully targets stubborn fat around the belly and love handles.
THE RESULTS
With consistent Hypoxi sessions, Rachel lost an amazing 10.5cms and 2.2kgs in only 12 sessions.  "I won the smartest loser in my first month, so my results were very good."
HYPOXI is known to transform not just your body but of course your lifestyle. "While on the Hypoxi sessions, I managed to maintain a balanced and nutritious diet as well as come in regularly for my Hypoxi sessions.  The whole process made me focus on my eating habits and ensure that I follow the simple nutrition guidelines. It even made me ensure I'm eating enough protein and less carbs.", says Rachel
THE EXPERIENCE
"My favorite thing about HYPOXI is the continual weigh-ins, they helped to keep me on track and stay motivated throughout", says Rachel.
THE NEXT STEPS
Now Rachel knows the key is maintaining her weight. "My next objective is to try and maintain my weight loss. I know where to go after having a naughty weekend."
We at Bodysmart help people achieve their weight loss goals with guidance on nutrition and a
structured plan with Hypoxi's low impact exercise.  We have seen thousands of people achieve their goals. Start your HYPOXI journey with us today with a FREE TRIAL. Call 043638318 or visit www.bodysmart.ae/book-free-trial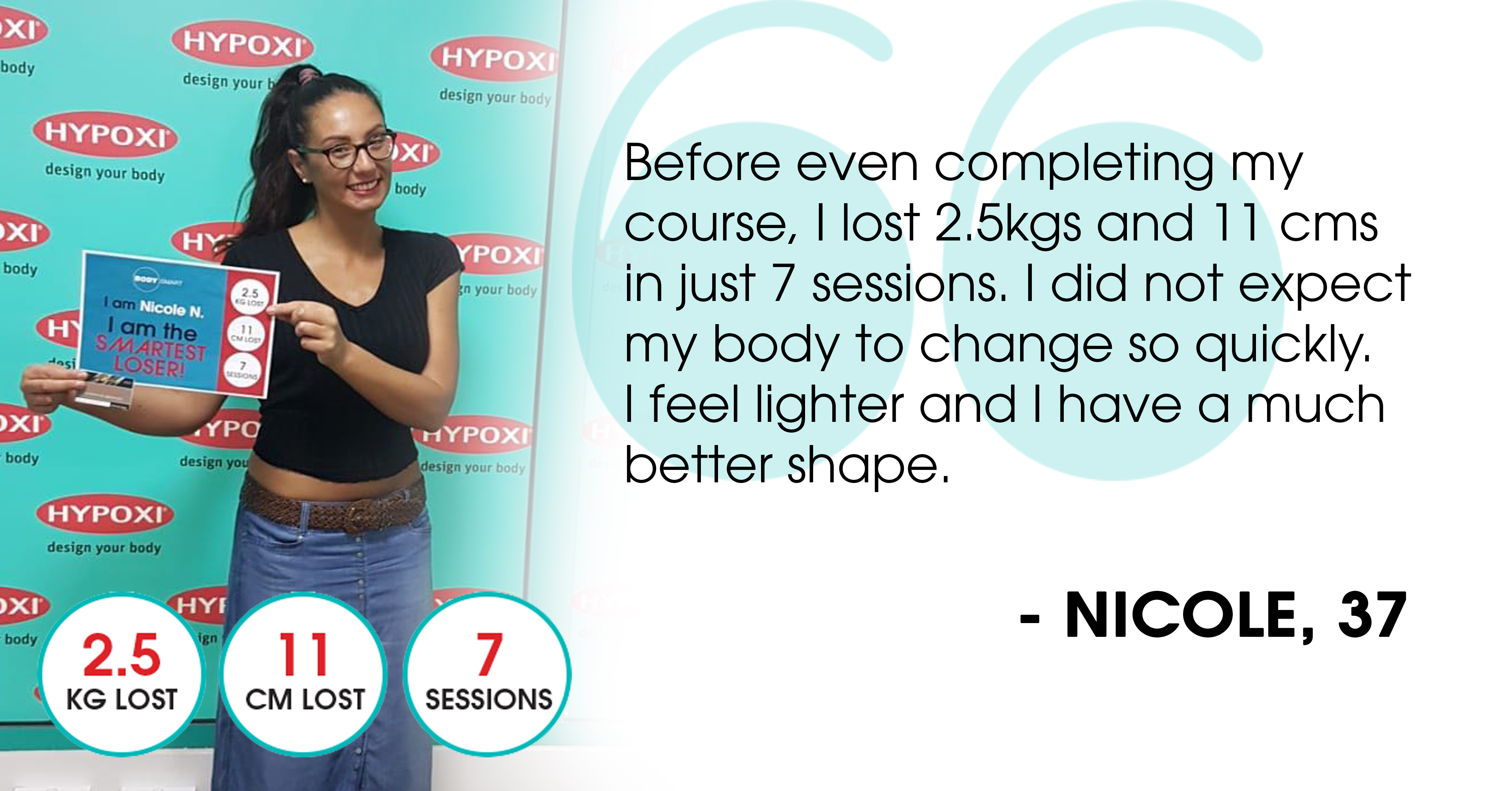 Keeping up a workout routine and eating well can be tough for many people – more so if you are constantly traveling for work.  Meet Nicole, a 37 year old flight attendant who is a complete foodie but recently put on weight after she stopped her fitness regime that kept her in shape.
Desperate to get fit again, Nicole turned to Google to find new and effective ways to lose weight and stumbled upon HYPOXI. She immediately booked in a free trial at BodySmart.
FIRST IMPRESSIONS
"I really did not know what to expect from HYPOXI, but it has been great! I had never heard about the technology and was very curious because I read that it is only a 30 minute exercise that helps to target stubborn fat."  
Impressed not only with the exercise and technology but also with the professional coaches who were very supportive during the trial, Nicole signed up for a course of HYPOXI L250 and Dermology to accelerate her results.
"I was simply very motivated to lose weight since I have a friend's wedding for which I bought 2 dresses. I definitely needed that 'kick' to get started and to look great at the events."
THE RESULTS
Before even completing her course, Nicole lost 2.5kgs and 11 cms in just 7 sessions. "I am so happy with the results, I did not expect my body to change so quickly. I feel lighter and I have a much better shape."
THE EXPERIENCE
I love the fact that it is a gentle, easy and low impact exercise that I can fit into my hectic schedule. HYPOXI makes you work but it is still relaxing – particularly the 20 minute Dermology session prior to L250 which helps me get rid of the water retention from frequent flying.
THE NEXT STEPS
Nicole knows the HYPOXI disciplines have helped her to stay on track. " I find I can remain consistent with the process.  In fact, consistency is THE key with HYPOXI along with simple changes in your nutrition. I will continue with my HYPOXI routine and the new lifestyle I have adapted to maintain my goals."
Are you struggling to maintain your fitness routine with the frequent flying, daily in-flight meals, and all of the treats in new cities you visit? Start your HYPOXI journey with us today with a FREE TRIAL. Call 043638318 or visit www.bodysmart.ae/book-free-trial
Newsletter
Wisdom