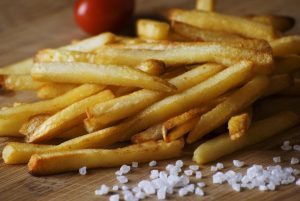 Losing weight requires dedication, a lot of hard work and determination. Going into a program for weight loss with only half of your heart and mind is a sure way of failing. In order for you not to get discouraged, lose hope and totally give up, the first thing you have to do is to understand your body and how it works. There are many people who just go ahead and work out without comprehending what is going on inside their body. They are only focused on getting ripped without knowing why they gain weight in the first place, how the body reacts to food, proper exercise and the best fat burner. Dubai citizens should know that body slimming only happens when you know what is going on inside your body.
Why do we gain weight?
There are many factors that contribute to weight gain. One of the main reasons and the most obvious one is a person's eating habits. It is only logical that the more you eat, the more you gain weight. But this depends on what you eat. If you eat more fruits and vegetables, you won't have to worry about gaining. However, eating more junk food and food high in carbohydrates and sugar can definitely make you gain weight in no time at all. Sugar is probably the worst culprit. These days, even younger people have high blood sugar because of their sugar intake. There is always soda and all kinds of delicious dessert. They buy it when they go see a movie, hang out with friends or even in a café where they study.
Junk food contributes a lot as well. That BigMac you just finished for lunch? That was like 500 calories and a whole lot of fat. When all of these foods are available in every corner, the temptation to go and buy them is great. Fast food chains have amazing marketing strategies.
One more reason why we gain weight is our sedentary lifestyle. In this smartphone era, people are getting lazy. We used to walk to a café or restaurant to buy food but, nowadays, you just download an app and food will be delivered to you. We work for hours in front of our computers that we forget to get up and take a walk during lunch. We even eat lunch in front of the computer fearing that we will miss a deadline or get shouted at by the boss because he needs something ASAP. Having a sedentary lifestyle lowers our metabolism and this makes us gain weight.
Why is body slimming so hard?
One of the reasons why fast body slimming is so hard is because we have set unrealistic goals. If you told yourself you are going to work out for a month and then expect you will have the body of a beauty queen after, you will be doomed for disappointment. Slimming down takes longer. There are those who achieve their goals in a year if they work out a lot and are on a diet at the same time. But, thanks to body slimming  with hypoxi, goals can be met in a shorter time. Find the right weight loss program for yourself, something that you can stick with until you meet your goals, and you are bound to have the body that you want.
Click here to learn more about the best fat burner. Dubai citizens deserve only the best products.