The festive season is definitely a joyful and exciting time of the year, but we are all familiar with the dreaded weight gain brought about by the constant parties, the holiday frenzy, and the stress. While there is no guaranteed way to prevent all of this, there are some simple tips we can follow to stay on track with our goals: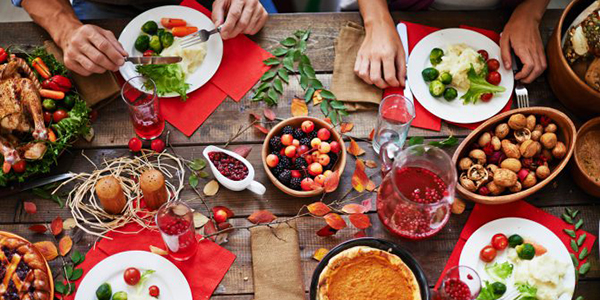 Do not skip meals
The best way to avoid binging on naughty food is to make sure you do not have your next meal while starved. It is important you do not miss your breakfast, lunch, and dinner so that you don't give yourself the chance to overeat when at a party or a gathering.
Use smaller plates
This seemingly simple trick is backed by science. Studies show that small plates can influence your perception of food portions, leading you to feel like you're consuming more when you eat off a small plate full of food, rather than a large one.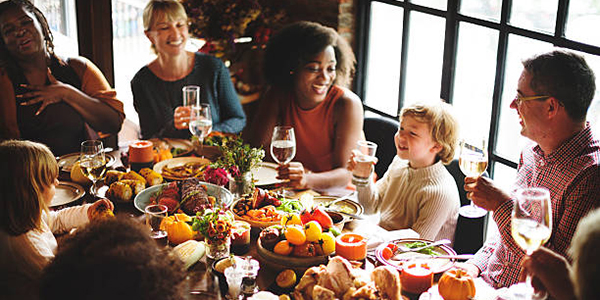 Take your time when eating
Did you know that it takes about 15 to 20 minutes for the stomach to signal the brain that it is already full? It is best to take your time to savor every bite and wait before grabbing for another plate to avoid overeating.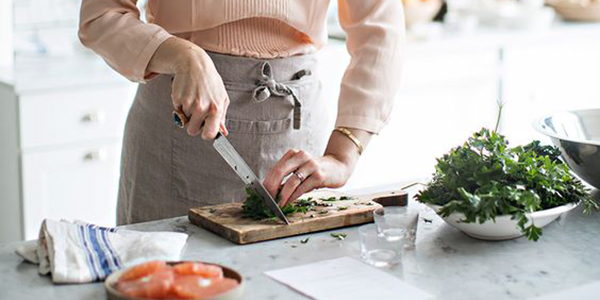 Reduce calories in your recipes
The main cause of the holiday weight gain is excessive caloric intake. This is why swapping a few ingredients of your home-cooked meal with healthier options can make a lot of difference! Instead of butter, consider using mashed bananas or pumpkin puree. Instead of sugar, try honey. Substitute chocolate chips or candies with dried fruits.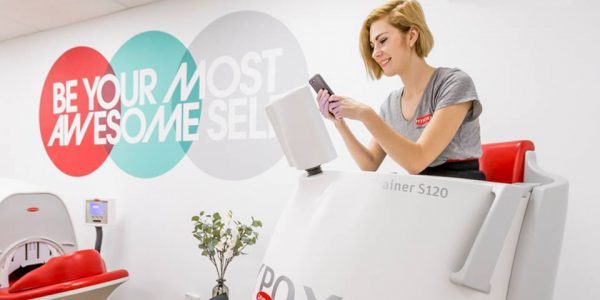 De-stress with exercise
There is nothing more stressful than catching yourself swamped at work, stuck in parties after parties with family and friends, and left with numerous items to cross off your personal to-do list. The festive season can definitely be overwhelming and stress is another factor that promotes weight gain. Stay on track by taking the time to exercise at least 3 times a week. HYPOXI is the perfect solution to sneak into your hectic day as it is a gentle exercise which targets stubborn fat on the belly, bottom, hips, and thigh in just 30 minutes. Not only will you have kept those naughty calories away, but you will have also released some tension and anxiety by spending a quality me-time!
Purchase your HYPOXI membership for January 2018 now to get your December sessions for free. The sooner you start, the more free sessions you get! Click here to find out more about our other promotions.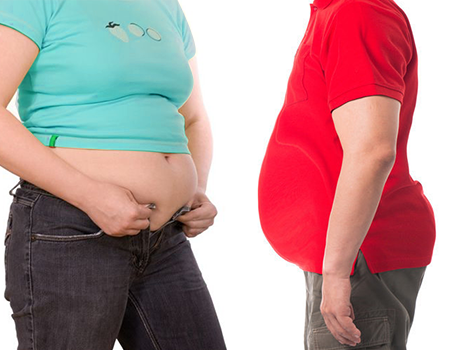 We all despise stubborn belly fat; our clothes just don't fit right and it makes our favorite pair of jeans feel tight. For some, this may be nothing more than a slight nuisance, but science will tell you that there are more serious reasons you should be concerned about belly fat.
It is important to understand the two kinds of belly fat: subcutaneous fat, which is found beneath your skin — the kind that you can pinch with your own hands. Visceral fat, on the other hand, lies in your belly and builds up in the spaces between and around your internal organs such as the stomach and intestines, and this can be seriously harmful. Studies show that this lower layer of belly fat tends to produce more of a certain protein that encourages tumor growth and turns a non-cancerous cell into a cancerous one.
Apple-shaped individuals are at more risk
Those who tend to carry weight around their mid-section are at more risk of the dangers of having excess visceral fat. For women, a waist measurement of over 35 inches can be a cause for concern. While for men, it's 40 inches or more. Even if your weight is considered normal for your height, if you find yourself needing a bigger pair of pants, it might be a sign that calls for a lifestyle change. One method of fat removal, which does not require plastic surgery, is the coolsculpting process from skin five that utilises freezing technology to help eliminate unwanted fat.
Even a modest weight loss can prevent the onset of health problems linked to excess abdominal fat such as diabetes, heart diseases, and certain cancers. Here are some small things that can make a huge difference:
Reduce your intake of sugar, carbs, and alcohol. You don't need to completely cut these out of your diet, as that may end up being counterproductive than helpful. Start with making small changes in the amount of sugar, carbs, and alcohol that you consume and the difference might surprise you.
Eat your protein and vegetables. Protein in your diet helps curb your hunger and cravings. Observational studies also show that individuals who eat more protein tend to have less abdominal fat. The fiber in your vegetables also helps fight belly fat by decreasing the number of calories you absorb from food and it slows down your food as it passes through your digestive system.
Exercise regularly. Another way to reduce belly fat is through burning calories, and your body can't do enough of this if you lead a sedentary lifestyle. Exercise is known to help with not only weight loss, but also improve your mood and overall health.
If you want to make a change in your lifestyle but find it too overwhelming to take the first step, our HYPOXI Vacunaut Training is perfect to help kickstart your journey to a healthier you. With just 30 minutes of gentle exercise 3 times a week, our advanced Vacunaut technology is the most effective method to target stubborn fat on the belly and love handles. Watch it in action if you want to learn more about how HYPOXI works and don't forget to book your free trial. Our trained HYPOXI coaches will assess your needs and goals to guide you through your weight loss journey.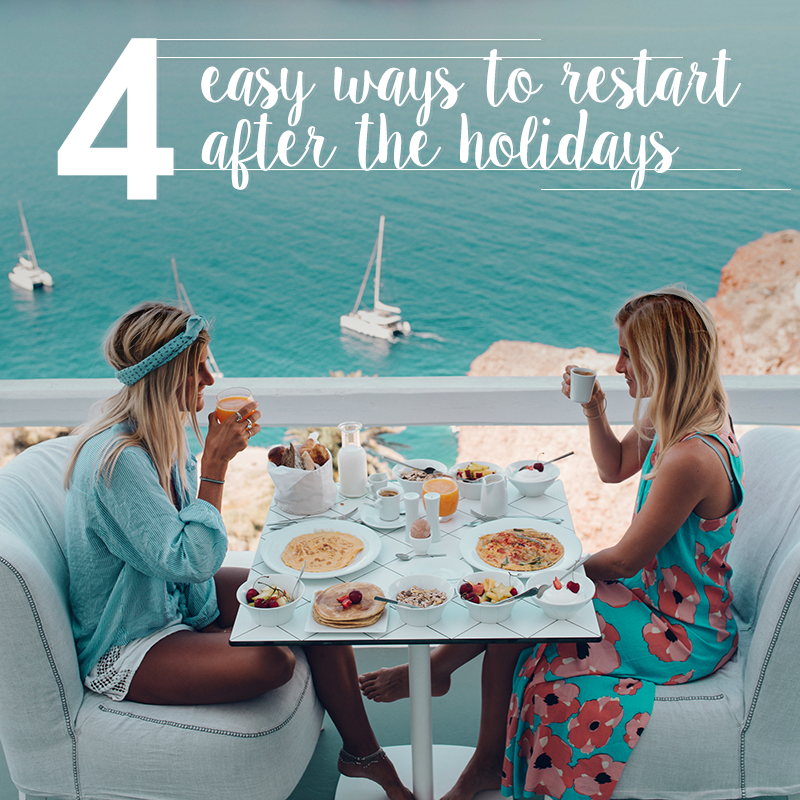 Nothing can throw even the most disciplined person off the wagon more than a holiday trip out of the country. No matter how much we promise to stay on track with our goals, we often just somehow end up eating and drinking a little more than we intended to.
The worst part doesn't come until after your return and you're left feeling bloated, defeated and unmotivated. However, the good news is getting back on track isn't as hard as we think it is. There's no need to postpone your weight loss goals. Follow these 4 easy tips to restart after a holiday weight gain:
Free yourself of the guilt. Being too hard on yourself will not help you here. In fact, getting too absorbed in what you did or didn't do may only be halting your progress. Forgive yourself and move on.
Dump the extra food. One guaranteed way to avoid naughty, calorie-laden food is to simply get rid of them. If you feel too bad about throwing away perfectly good food, give them away to family or friends — anything just to keep junk away from your cupboard!
Realign your goals. Take the time to sit and revisit your objectives and plans. This is a good way to keep you motivated and reminded of what you need to do and where you should be. Do not hesitate to revise your goals if need be and if you are unsure of anything, always feel free to ask your BodySmart coach for advice on diet and nutrition!
Eat healthily and stay active. This may seem like a very obvious advice, but planning and picturing your goals are not enough; you need to simply take the first step and keep going. Eat your favorite healthy meal and do even just a light workout. Repeat this for the next few days until you find yourself back into a good routine.
Getting back on track doesn't have to be a difficult task. There is no proven formula to do it successfully. All you really need is to recommit yourself to your goals and keep going no matter what. Remember, you don't have to be extreme; just consistent!
Ageing can be such a drag, and its signs on your appearance are never welcome. They say that people should age gracefully, and while it's good advice, so many tend to misunderstand it. Ageing gracefully doesn't mean accepting the usual ravages that the years bring forth. It doesn't mean that you should embrace physical deterioration. It mostly means coming to terms with your entry into yet another stage, and not fighting tooth and nail to cling to the past. You may never get away with donning an outfit from Juniors, but it doesn't mean that you should look like a hag.
Beauty should shine from within, but it becomes even more pronounced when you actually make the effort to make yourself look good. They say that a youthful heart is all that you need to stay young. The young spirit does wonders to stimulate your being, which, in turn, revs your motor and gets your blood pumping… You can't help but feel rejuvenated and energetic. It's like the baggage from the accumulated years is zapped away. Stimulating your skin cells achieves a similar result for your appearance.
When it comes to cellular stimulation, LPG Systems is the industry leader. One of the technologies it has introduced is an anti-ageing technique that is geared to erase the signs of ageing by deep re-densification. The LPG Endermolift is known to bring on immediate results, which includes a natural healthy glow and tighter pores. The technology is used by many dermatologists, cosmetic surgeons, physicians, physical therapists, and other skin care professionals. Health and beauty institutes, spas, and other similar facilities can certainly attest to the efficacy of the technique.
Results are apparent even after the very first use. Skin immediately shows itself much smoother and healthier-looking after just one session. Results intensify as you go in for more — wrinkles are filled in, contours redefined, and complexion clarified.
An Endermolift session is absolutely pain-free. Many skin-health professionals endorse the technique as the ideal anti-ageing solution for those seeking the middle ground between mild yet ineffective options and risky, invasive procedures.
You don't have to be a senior to benefit from an Endermolift treatment. If you feel like your skin is losing elasticity or that your skin will start sagging soon, if you want to look younger without freezing your facial muscles, or if you simply want to properly nourish your skin, you should definitely consider undergoing Endermolift sessions.
Maturity and wisdom are the rewards of age; failing health and a weakened physique are not. You really don't have to take the bitter with the better. You should relish the fruits of your years, but work to maintain your health and appearance. Endermolift can help you with this.
As some of us already know, pregnancy can wreak havoc on a woman's figure. 27 year old Sasha Connor experienced just that 2 years ago with the birth of her second child Daniel, a short 2 years after giving birth to her first born son Ivan.
Having always been a curvy girl who enjoyed swimming and playing tennis to stay fit, Sasha added 16 kilos to her 64 kilo frame while pregnant with Ivan. She was able to lose 7 kilos after giving birth but struggled with the remaining 9 kilos. Her busy first year of motherhood flew by and before she knew it, Sasha was pregnant with her second child. "During my first pregnancy, I had this common misconception that I had to eat for 2 and of course gave in to all my cravings. For my second pregnancy I tried to eat healthier, but it didn't help that I was still carrying around the baby weight from my first pregnancy." Sasha gained an additional 15 kilos while pregnant with Daniel. Her previously hourglass figure had transformed into an apple shape, with the weight accumulating around her midsection.
6 months after giving birth to Daniel, and having had not much luck losing weight with her usual tennis and swimming routine, Sasha decided to visit BodySmart with a friend to have a complimentary trial and consultation. Her HYPOXI coach recommended a combination of HYPOXI, Vacunaut & LPG Lipomassage treatments to target the fat burning around her mid section. During her Vacunaut sessions, she wore an airtight neoprene suit similar to a scuba diving outfit while walking on a treadmill at a moderate pace, keeping within her fat burning maximum heart rate zone. The gentle vacuum and compression of the suit increased the circulation and blood flow to her problem areas, which in return burned 80% of her fat around her mid section. The LPG treatments, conducted by a highly trained LPG coach, complimented the HYPOXI sessions by using specialized rollers and a vacuum to manually stimulating the fat deposits, resulting in the break down and reduction of fat around her stomach, waist and arms. Her HYPOXI coach also helped her change her eating habits which was an important factor in her weight-loss journey. Sasha managed to cut out all sugar and switched to a balanced diet high in lean protein, vegetables,, fruit and whole grains.
To date, Sasha has lost 15.6 kilos and a total of 65.6 centimeters from her waist, stomach and hip area. She has more energy to chase after the little ones and has reshaped her body to a beautiful hourglass figure.
The LPG Wellbox
With the summer holidays just around the corner, there is a rush in the remaining weeks to look good while you are away – whether you are visiting friends and family at home, exploring a new destination, or lying on a tropical beach.
But the good work doesn't have to stop as you board a plane. If you are a fan of LPG's lipomassage cellulite banishing and slimming techniques, you can take it with you, all neat and compact in the form of the LPG Wellbox – the ultimate personal beauty care device.
Available for sale at BodySmart, the targeted body shaping experts, The LPG Wellbox costs AED5,750 and the BodySmart team will ensure that you know how to make the most of your purchase so that you look fresh and toned every day of your holiday.
The LPG Wellbox is a slimming, body contouring, cellulite-busting and anti-ageing device for use at home or on your travels. It enables you to continue and maintain the salon experience while travelling out of town or on those days when you can't make it to the studio.
The Wellbox is designed for use on the face and body. By stimulating the cells, it firms and rejunvenates the skin, defines facial contours, smoothes lines and wrinkles, reduces the appearance of sagging skin and targets the fat that is resistant to diet and exercise.
The Wellbox comes with a variety of treatment heads designed for self-use – three lift treatment heads are for the face, neck and neckline, and two rollers work on the body. The widest head is fitted with two rollers for effective mechanical massage over the main areas of the body while the smaller treatment head is designed to firm more sensitive areas, such as the inner arms.
The treatment heads are set in a rhythmic mode to allow micro-pulsations which stimulate micro-circulation, smooth out lines and firm the skin in a painless procedure, without the use of heat, laser or gels. The process is 100% natural and non-invasive. The mechanical roll stimulation reactivates fat release and encourages the body's production of collagen and elastin.
The Dubai "stone" is infamous here. Expats arrive and as they settle into their new lives, the pounds/kilos creep on. This happened to German expatriate Sonja Brix, and when added to post-baby weight, before she knew it her once svelte size 36/38 pre-pregnancy figure blossomed to a size 46! The photos tell the tale!
Sonja sought help from the BodySmart targeted body shaping team in The Meadows. She was keen to lose weight but wanted to do it steadily so that it would stay off – not just a quick fix solution. The trained BodySmart coaches, guided her through the process of HYPOXI, beginning with an assessment, body analysis and measuring parts of her body (arms, thighs, torso) to track progress.
Her coach recommended a series of 18x thirty minute sessions, three to four times a week on the HYPOXI stationary bike, having calculated Sonja's optimum fat burning heart rate zone for best results. Sonja also followed the healthy eating recommendations: out went burgers, evening beverages and pizza, replaced by three balanced meals a day, and two healthy snacks in between. Sonja ate more vegetables, a small carb meal with salad and vegetables prior to sessions and no carbs for four hours after a HYPOXI session. She also upped her water intake to two plus litres a day to accelerate the elimination of fatty acids and toxins.
In three months Sonja lost 10 kilos. Her skin texture improved. Her legs were toned but she needed to tackle her middle. So she moved on to a series of HYPOXI Vacunaut treatments. Similar to a treadmill, Sonja wore a pressure suit made of airtight neoprene, which she admits took some getting used to. While she walked on the treadmill at a steady pace within her fat buring heart rate zone, the 122 vacuum chambers built into the suit alternated between negative and positive pressure, stimulating targeted fat burning on the stomach and hip area.
Sonja began to drop clothes sizes but still lacked muscle definition, so she incorporated PowerPlate routines, for a full body workout, that use gravity against body weight to develop strength, balance, flexibility and core stability.
In total Sonja lost 25 kilos (55lbs or 4 stone) – the equivalent of a holiday suitcase – and is now back to her pre-baby figure and couldn't be happier. She enjoys her food and lifestyle but keeps her food portions in check and two or three times a year, she follows another course of HYPOXI and Powerplate to help her stay in shape. Even her husband follows a programme when all that corporate entertaining takes its toll.
Sonja says, "I could have lost the weight on my own, eating healthily and going to the gym, but having a booked appointment and knowing a coach was waiting for me gave me the discipline and encouragement I needed to stick to the programme. All the team were very helpful and supportive, and some of my friends are now also taking sessions."
Bring your Good Habits on your holidays!
 Going on holiday? Well, have a great time! Just keep in mind that even when you're travelling, you can keep your healthy eating habits intact and lose pounds… or maintain your healthy weight!
Of course, if you're travelling, you're going to have to be creative and smart about your choices. You will probably be dining out a lot – perhaps all your meals will come from restaurants. So now is the time to prepare to succeed, because knowledge is power.
First, modify your goals. Holiday time is not the time to diet, but it doesn't mean you should forget all the good habits you've learned. Making healthy choices wherever you go is the secret to staying slim. You've developed these healthy habits, so have fun.
Or maybe you're tempted to go for broke – you only go on holiday once a year, after all. But ask yourself – do you really want to come home with all your hard work undone? Do you want to start your weight loss from scratch all over again? That holiday excess could leave you with another kind of holiday hangover – on your hips! So ask yourself – is it really worth it? A few simple and smart choices can make all the difference…
Plan ahead (of course, that's why you are reading this).
Learn about food substitutions. Eating healthily doesn't mean you have to miss out – just make smart replacements. A large magnum at around 300 calories, swap for a water ice lolly around 75-100 calories.
No people pleasing. Eat only what you want, not as an obligation to others for cooking your favourite dish. You are the one who will have to live with your decision. Others may actually respect you more for standing up for yourself.
Practice assertiveness skills so you can refuse foods or activities without feeling guilty or hurting others' feelings.
Choose to eat healthily ahead of time. Be prepared especially on long journeys. Have plenty of healthy snacks and lots of water on hand and also a good read to keep boredom at bay and mindless eating.
No skipping meals. Being overly hungry can result in loss of control and a binge at meal time. Keep to your normal regular eating pattern.
Smaller portions. Allow yourself to taste what you want in smaller portions so you don't feel deprived. Healthy eating is not punishment so don't set yourself up for a binge by depriving yourself of your favourites. You'll only resent it.
Visualise yourself eating healthily prior to going to your holiday family event.
Be conscious of what you are doing and eating.
Chew slowly and enjoy your food. Put your fork down between each bite.
Check out the local shops and markets and try new fruit and vegetables and other local specialties that are healthy and different from the norm.
Exercise a little longer and a little harder during your holidays. This will burn off the extra calories, keep your metabolism revved and help you beat stress. Use every opportunity to walk more, it all adds up. Don't forget to pack your exercise gear!
No guilt. Make a conscious effort to choose what you are eating without the guilt attached.
Stop eating when you are physically full. Start learning now to recognise the difference between physical and emotional hunger.
Manage your emotions. Have a plan for what you will do in the event strong emotions arise when faced with certain situations or family members. Don't follow a row with a trip to the biscuit tin.
Plan to wear the same snug fitting outfit on your outbound trip as on your inbound journey. Pack only clothes that fit you snuggly not a larger size for the second half of your holiday.
Know that putting on a couple of pounds will NOT cause you to go back to square one. It's okay!
Resume your lifestyle of balance and wellness just after the holiday has passed.
Travel tips and how to eat healthful on a plane
There are plenty of temptations on the road to divert you from your diet – but with some planning, you can stay committed.
Avoid "road food" if you can bring along your own food on trips that is healthy.
Give airlines 24 hours notice and order a special meal if your flying- you can usually select from a variety of foods.
Keep yourself busy to avoid excess snacking. Walk the magazine isles. Anticipating long lines, bring a book
Walk whenever you can – not only can you get exercise while travelling, but you can also catch more sights this way.
Bring an energy bar or some other meal replacement in case the in-flight meal is a travesty or your flight is delayed.
Eat in the airport if you don't want to entrust your airline with your culinary fate. Large airports have the usual variety of fast-food franchises, so pick what you know to be the most healthful.
Follow any alcohol or caffeine consumption with plenty of water to avoid becoming dehydrated.
Get back to a Good Habits meeting at the very first opportunity!
Lifestyle challenges of eating on the run. With all the rushing around and juggling of family, work and social commitments, lifestyle challenges can get in the way of good nutrition. Such challenges include daily stresses and lack of time with the resultant despondent mindset, forgetting to drink enough water, obligatory travel and easy access to unhealthy foods. The quality of the water you drink is also essential. Water Filter Way will give you more advice on how to tackle the issue of low-quality water.
The guidelines that follow will help you to better manage these lifestyle challenges of eating on the run so that you can sustain your energy levels, work smarter and get more out of the day.
VENDING MACHINES, OFFICE TROLLEYS AND TUCK SHOPS
Most of the foods on offer are high in saturated and total fat, sodium and/or sugar, and virtually devoid of fibre and vitamins. Eating these foods on a regular basis may results in erratic blood sugar levels, leaving you with low energy, irritability, poor concentration, weight gain and an increased risk of diabetes, heart attacks and stroke, gout, high blood pressure, cancer, and other diseases. If you know of someone who eats a lot of junk food, but are not willing to give it up just yet, for their health, it would be beneficial to do some research into something along the lines of Mississauga first aid training courses (or ones closer to you) to try and find a way to help them if anything was to happen. You just never know, so it is best to have someone by their side who has their best interests at heart.
Managing This Challenge
Before grabbing a snack, consider whether you rather need a break from what you're doing. Going for a short walk or getting a breath of fresh air may be all you need to feel re-energized.
Before having a snack, drink a glass of water as you may simply be dehydrated.
Think before you buy a snack. Often just seeing tempting snacks will stimulate appetite but not actual hunger.
Do not allow yourself to become very hungry by missing meals. Hungry people tend to make unhealthy food choices, particularly if tempting snacks are readily available.
If you must have that bar of chocolate or packet of crisps, choose the smallest size and consider sharing your snack with a colleague or friend.
When choosing a beverage, preferably choose water or opt for a sugar-free cold drink rather than a sugar-laden cold drink.
Ask for healthier snacks to be provided.
Your best option is to have your own supply of smart snacks.
CAFFEINE-RICH DRINKS
Overconsumption of caffeine often goes hand in hand with overconsumption of sugar and refined unhealthy snacks such as biscuits. Excess caffeine intake may cause feelings of anxiety, increased blood pressure, insomnia and headaches. It can also be a digestive system irritant, causing heartburn, cramping or diarrhoea in sensitive individuals.
Managing This Challenge
Before having a cup of tea or coffee, consider whether you do not simply need a break. A short walk or a breath of fresh air may be all you need.
Coffee, regular tea, hot chocolate, cola drinks and some energy drinks contain caffeine. Coffee and tea should be limited to three cups per day and hot chocolate, cola drinks and energy drinks should not be consumed on a regular basis, but rather as a treat. The energy drinks that may be more effective for you would be from companies such as RED Elixir. These types of drinks are said to be all natural, with antioxidants and help with muscle recovery (along with other properties). This may be worth a try, especially in comparison to the drinks you have that's filled with sugar.
Avoid coffee and tea creamers, as they are high in saturated and trans fats, which increase the risk of diabetes, cancer, heart attacks and stroke.
The total daily sugar intake for an adult should be less than 10% of total energy, which equates to eight teaspoons of sugar per day for women, and 12 teaspoons for men.
Although tea, coffee and cocoa contain beneficial flavonoids and other antioxidants, the caffeine content limits their benefit.
With every cup of coffee or tea, drink a glass of water to quench your thirst. In winter, drink hot water with a slice of lemon, orange or fresh ginger in it. Herbal teas also count as water.
To cut back on caffeine, choose decaffeinated coffee. If you are not a coffee lover, you may enjoy natural coffee substitute chicory.
INADEQUATE WATER INTAKE
Most beverages on offer when you're on the run are not pure water, making it difficult to ensure proper hydration. Even mild dehydration may result in reduced concentration capacity, false hunger, headaches, joint pain, poor digestion and lower energy levels.
Managing This Challenge
A good estimate of how much water you should drink per day is to take your body weight in kilograms and divide it by 10, giving you the number of glasses of water you need per day. For example, a 60kg woman would need about 6 glasses of water per day. One glass of water is a minimum of 200ml.
Start your day with a glass of hot water. For extra zing, add lemon slices, fresh ginger or mint.
Fruit-infused water is available all day makes for a delicious thirst quencher.
Keep water with you at all times: a jug or bottle of water on your desk and at all meetings, bottled water in your car and filtered water in the kitchen. In summer, freeze water overnight and enjoy ice cold water throughout the day. In short, keep water visible so that you actually drink it.
Herbal teas, hot or chilled, make a delicious source of water.
Every cup of regular tea or coffee should be accompanied by a glass of water.
Water can be flavoured with artificially sweetened cordials, but keep to no more than one litre of flavoured per day.
When you think you are hungry, have a glass of water first as you may simply be thirsty. Thirst should be quenched with water and not juices and soft drinks.
MEETINGS
The challenge with meetings is that either unhealthy foods are provided or none at all. Foods on offer during meetings such as pies, biscuits, sausage rolls, samoosas, spring rolls and sandwiches are highly refined and high in fat. This can limit engagement and creativity and promote weight gain.
Managing This Challenge
Be proactive and if possible, organise healthy food platters for meetings. There are various catering outlets that provide delicious smart snack platters.
Suggested snack platter items: cucumber strips, mini spring onions, falafels, baby carrots, mini pitas, dried apricots, asparagus spears, cherry tomatoes, tzatziki, hummus and low-fat cottage cheese as a dip, mini meatballs, olives, celery sticks, mini mozzarella balls, berries, boiled eggs, chicken strips, dried mango, Peppadews, shaved cold meat, grapes, snap peas, baby corn, pineapple, sweet peppers, smoked salmon, crackers, etc.
Keep your own healthy snacks on hand to consume during or between back-to-back meetings.
Ensure that water is available in all meetings along with the tea and coffee.
Meetings are best scheduled between meals, rather than at meal times. Rather have a smart snack before meetings and then a beverage during the meeting.
If you have to eat from unhealthy food platters, rather fill a plate of food once, keeping in mind that half should be vegetables or fruit. In this way, you end up eating a fairly balanced meal rather than too many high fat, high carbohydrate snacks if you nibble continuously.
If there are four or fewer of you who need to have a meeting, consider going for a walk while addressing the issues at hand. This helps to reduce unhealthy snacking.
EATING AWAY FROM HOME
Eating out and takeaway meals increase the temptation to overindulge, have treats and consume unbalanced meals, resulting in difficult weight management, increased lifestyle disease risk and poor energy management.
Managing This Challenge
No matter where you are eating, remember to fill half of your plate with colour from nature's colour palette: salad or vegetables. The meat, fish or chicken portion should be about the size of the palm of your hand, and the starch (including the bread and pudding) should be the size of your fist.
Hot chips, a regular item on restaurant and takeaway menus, are high in unhealthy fats and kilojoules and are not needed as part of a meal.
Salad is a healthy choice as long as the dressing is low in fat. A salad should not be drowned in dressing – only drizzle on enough to enhance the flavours of the salad. Remember that salads with protein (chicken, tuna, salmon, cheese, and so on) are a meal in themselves.
Meat and vegetable sauces can also be high in fat. Order them on the side and only drizzle the sauce over the food.
Dishes with the sauce already plated are acceptable as long as you eat the vegetable or protein with just enough sauce to add depth of flavour and leave most of the sauce on the plate.
Eat regular meals so that it is easier to make wise food choices when eating away from home. If necessary, have a smart snack such as fresh fruit, low-fat yogurt or a handful of nuts before eating out.
Eat mindfully. Be aware of the textures and flavour sensations of the food you are eating. Savour every mouthful, and eat slowly. Remember that it takes 10 to 20 minutes for the 'feel full' message to register in your brain.
Fruit juices, soft drinks, milkshakes, smoothies, energy drinks and alcoholic beverages are strictly speaking too energy dense to have with meals. You should rather make water your beverage of choice with all meals. Alcohol on an empty stomach is also not recommended.
Vegetarian dishes are not necessarily a healthier option, as they can be very high in fat due to the cheese, fried items and cream.
Omit the starch (bread, potato, chips, pasta) from your main meal if you choose to have a starter or a pudding.
Restaurant and takeaway portions are generally too big. Keep to a fistful of starch, protein the size of the palm of your hand and generous helpings of vegetables and salad. If possible order half or starter portions, and if this is not an option, take the excess food home and refrigerate within two hours. Alternatively, keep a frozen ice brick in a small cooler bag in your car and refrigerate the leftovers as soon as possible.
If you are easily tempted by the sight of delicious food, avoid buffets.
It helps to decide on what you would like to eat before getting to a restaurant to avoid the temptation of ordering less healthy items while distracted by others around you.
Avoid the bread or rolls that are offered as you are seated, unless you would prefer to eat the bread in place of the starch in your meal.
Be careful of dessert denial, as it can be counterproductive. Most people feel that dessert rounds off a good meal. However, desserts are high in fat and calories. Rather share a dessert between two or four people to satisfy the need for a sweet ending. Alternatively, opt for a sweet decaffeinated skinny cappuccino.
TRAVELLING
Whether you spend a lot of time in a car or hotels, or fly across time zones, travelling disrupts your usual eating routine and can play havoc with healthier food choices.
Managing This Challenge
The biggest challenge with meals served on aeroplanes is the almost complete lack of vegetables and fresh fruit. Make sure you do eat all the salad and vegetables that are served, and then limit the starch of the meal to a maximum of two choices of either the bread roll, pastry, crisps, chocolate, cake, biscuits, pudding, or cooked starch.
Should you wish to have a meal before boarding a plane, choose a salad-based meal with a small protein serving.
Meal timing is the other challenge when travelling. A main meal should only be consumed four to five hours after the last main meal. Should you be served a meal one to two hours after a large meal, treat this meal as a snack, rather than consuming the whole meal.
If possible, carry a good selection of smart snacks with you.
Fruit juices, soft drinks and alcoholic beverages are strictly speaking too energy dense to have with meals. Rather make water your beverage of choice with all meals. Alcohol on an empty stomach is not recommended, and be sure to match every alcoholic drink with a full glass of water.
Drinking enough water is very important, as long flights are particularly dehydrating. Have a glass of water every hour or so.
LACK OF TIME
Not having enough time is everybody's reality and is often the reason why nutrition is compromised and no longer a priority.
Managing This Challenge
Modern food availability distorts the natural choice of healthy foods. That is why correct nutrition knowledge and skills are essential for better food choices.
A well-stocked kitchen with the correct foods makes it so much easier to assemble balanced meals in a jiffy and to eat healthily on the run. Keep a small notebook and a pen in the kitchen so that you can add foods to your shopping list as you see them up. Ordering online is also a convenient option.
Free time on weekends can be used to prepare or bake meals and snacks ahead of time.
Make use of recipe books that offer quick, healthy meals. Choose a few recipes and compile a shopping list so that you have all the ingredients available when you want to make these dishes.
On occasion you may wish to use caterers who provide healthier ready-cooked meals.
UNHEALTHY FOOD RELATIONSHIP
A healthy relationship with food is manifested in the enjoyment of food flavours and textures balanced with an appreciation of the physiological function of food and eating in response to real hunger, and not appetite. Aberrant food relationships occur when there is obsessive behaviour linked to food intake, which can manifest as overeating, undereating, or fanaticism about any particular food(s).
Managing This Challenge
Enjoyment of eating is important, but so too is being able to distinguish between living to eat and eating to live.
Health fanaticism can be detrimental to your health by causing nutritional deficiencies and encouraging obsessive behaviour. Aim for progress, not perfection. An all-or-nothing approach is counterproductive. Set yourself up for success by making a few small changes and making them part of your lifestyle. Rather than deciding to drink more water and eat more fruit and vegetables, be specific by keeping a glass of water at your desk at all times; deciding to eat fresh fruit as your afternoon snack while you drive home; ordering a salad as a starter when you eat out, and so on.
Eat mindfully. Be aware of the textures and flavour sensations of the food you are eating. Savour every mouthful, and eat slowly. Remember that it takes 10 to 20 minutes for the "feel full" message to register.
Keeping a food diary creates self-awareness and can identify where you are eating too much or too little.
Awareness is the first step to change. Try to identify whether you were rewarded with treats or sweets as a child for good behaviour or mishaps, such as falling off a swing. This may be a reason for emotional eating in adulthood. Rather manage your boredom, loneliness, frustration, and mishaps with non-food-related activities such as reading a book or favourite magazine, calling a friend, spending time in nature, walking or perhaps writing in your journal.
Be aware that there is a difference between hunger and emotional eating. Before eating, ask yourself, "Am I really hungry or am I responding to other triggers?" Hunger triggers include the delicious aroma or sight of food, emotions, and traditional meal times.
Thirst is often perceived as hunger, so drink a glass of water before responding to your apparent hunger.
Denying yourself the foods you love will most probably result in cravings and bingeing. Be balanced and allow yourself to have guilt-free treats. Healthy enjoyment of food is characterised by good portion control.
Movement such as a brisk walk or workout releases the same "feel-good" brain chemicals that are released when eating. Laughter will also release these endorphins.
Regular check-ups can be a wake-up call to health problems such as being over- or underweight, high cholesterol, high blood pressure, diabetes and pre-diabetes.
Source: Fast Food for Sustained Energy
http://www.gabisteenkamp.co.za/books-index.htm
Nutritionist and Zest4Life coach Kathleen Farren gives us a peak at one of the topics discussed in the Zest4Life program
Limiting beliefs – don't allow them to get in the way of what you truly want to achieve
Most of you will have tried many times to achieve your ideal weight and fitness. What usually tends to happen when you embark on a new weight loss programme, is that you succeed in the short term and then re-gain all the weight you lost (and often more), you return to unhealthy ways of eating and then declare that nothing works. You may have told yourself that you cannot change, that things will always be this way and that change is too difficult.
There may be a part of you that is keeping you 'stuck' beacause you are actually afraid of failure and this is what has repeatedly happened in the past. Everyone has a fear of disappointment but what you must remember is that the way things have been in the past is not the way things will be in future.
On a Zest4Life programme, we don't really view ourselves as being on a diet. This is about learning how to eat optimally so that your body and mind are fully satisfied with regular meals and snacks, all the vitamins, minerals and good fats that you need for superhealth – nutritious as well as delicious food! For the first time you will be nurturing your body and benefiting from renewed vitality, clarity of mind and boundless energy that is your in return.
So I ask you to look at weightloss from a new perspective – imagine you are now preparing yourself properly, you have new knowledge from one of the world's leading authorities in nutrition – Patrick Holford – you have new tools and you have committed to a programme which works. This time it is different and you can use the tools you will be given to ensure you get the body you want.
Have a think about any limiting beliefs that have not served you well in the past and write them down, then using examples shown below, change these limiting beliefs into empowering alternative statements that will serve you better to make the change you want. Here are some common examples:
Limiting beliefs and empowering alternatives
"I tried everything and nothing works" could become "the diets I did in the past didn't suit me, this time I have a great plan to follow, I know I can change anything if I commit to it"
"dieting is so dull" could become "I am not on a diet, I am choosing to eat healthily and the food is quite delicious, I'm not depriving myself at all"
"this is too difficult, I haven't got time" could become "I really want to get fit and healthy and I will create the time to put myself top of my agenda"
"all my family struggle with their weight" could become "I won't let a lifetime of bad eating habits keep me this way, I will find out how to eat healthily and bring about the change I want"
"I can't be bothered to exercise" could become "the joy and vitality I feel when I get moving is irreplaceable"
Remember a limiting belief is just that – a belief – it has no foundation in reality. Every time you come up with a negative reason for spoiling your good efforts – stop and immediately replace it with an empowering alternative that will get you back on track. Eventually you will create new habits and those old believes will have faded into the past, no longer something you allow to get in the way of your success.
Newsletter
Wisdom