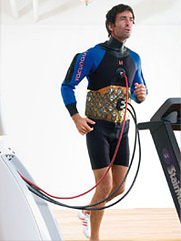 Though it's cool to be fat and chubby or unusually skinny, it is still better if you can keep a physically fit body—not just because you look better that way, but because your health is an important aspect of your life and can only be achieved with such physical condition. Fat reduction, Dubai weight loss experts' best recommended method in slimming down, is an effective way of trimming your unwanted flabs and muffin top. But aside from such highly advanced medical procedure, you can also follow these steps to achieve the kind of body with admirable strength and endurance you want:
SWAP FOOD SELECTION ONCE IN A WHILE
Anyone would lose interest in doing weight loss programs if his diet involves only one dish every day. Eventually, a person would get sick of the same food served over and over, which is why a fat reduction diet composed of different food choices is often suggested by licensed nutritionists and weight loss professionals. In doing so, you need to find, learn, and prepare foods that have the same composition but different taste. Mixing and matching different ingredients to discover new dishes is the most effective way of accomplishing such technique.
TEN-MINUTE WORKOUTS
Body fat reduction cannot be achieved simply by sitting around on the couch all day while watching TV. Ten minutes of light workout is already a big step and significant contribution to your weight loss endeavors. Although it might not seem like it, that ten minutes, if done right, can burn calories more than you can imagine. If you think about it, a few minutes of your day is not really that much of a bother and won't exhaust you too much, so it is best to follow such exercises daily. You can browse the web for more details about proper 10-minute workouts.
EATING HEALTHY IS DIFFERENT FROM NOT EATING AT ALL
Before you engage in belly fat reduction diet, you must first know the basics of a safe and healthy dietary plan. Not eating your meals is not the answer to your fat build-up and, as a matter of fact, can even worsen your problem by causing you certain ailments. Not eating your meals deprives your body of the nutrition it needs, lowering the defense of your immune system and making your prone to diseases. You can eat less with the right kinds of food but it is not advisable to not eat at all.
UNDERGO ADVANCED SAFE OPERATIONS
There are many advanced fat-burning procedures that use sophisticated medical equipment for patients to lose their excessive fats. One of the most prominent methods is liposuction which uses advanced surgical instruments to remove fats safely. However, it is still recommended for patients to exercise regularly before the procedure in order to minimize risks and achieve optimum results.
To know more about fat reduction, Dubai BodySmart experts, you can click here and read through all the information about weight loss. Aside from liposuction, there are other procedures such as hypoxi and powerplate packages that can help you out with weight loss.