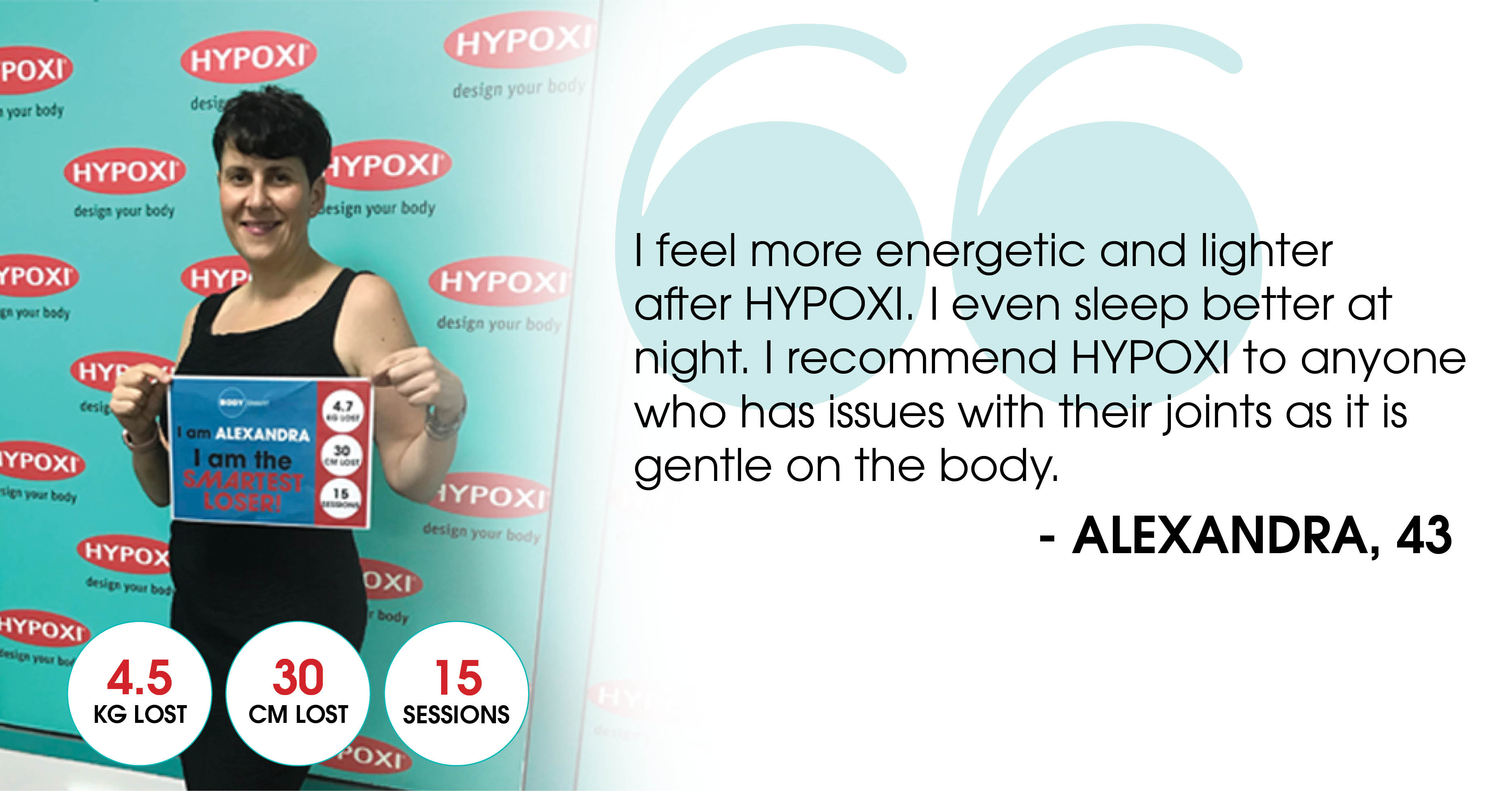 Being a supermom isn't easy. And shifting the baby weight is even harder. We at BodySmart understand that the secret to being a great mother is sometimes looking after yourself first.
Meet Alexandra,  our Smartest Loser and a 43 year old mom of 1 who has been generally healthy, but struggled to regain her pre-baby shape. Dealing with a demanding job in a creative department, a busy schedule at home and a nagging pain in her knees, getting in shape again seemed like a distant dream.
" After I had my daughter, I was looking for various options to drop the baby weight. But most forms of exercise were high impact which did not suit my knees. I then found out about Hypoxi from a colleague who had fantastic results, so I decided to give it a try."
FIRST IMPRESSION
"Right from my trial session, I enjoyed the feeling of HYPOXI and how my body reacted to it. The HYPOXI L250 is easy on my joints and I already felt lighter. So, without a second thought, I signed up for a course of HYPOXI L250 and combined it with Dermology."
Our low impact cycling sessions are popular amongst new moms as it takes only 30 minutes and is 3x more effective at targeted fat burning than traditional exercise.
THE RESULTS
With consistent Hypoxi sessions 3x a week, Alexandra lost an amazing 30cms and 4.5kgs in only 15 sessions.  
For some, the journey back to pre-pregnancy shape and weight can take a little longer. "Initially, despite following a healthy diet, I would lose only about 100gms after my sessions. I did not give up, and was surprised to see that I suddenly I fit into clothes that were a size smaller."
HYPOXI is known to transform your body and your life. "I feel more energetic and lighter after HYPOXI. I even sleep better at night and overall, I feel I am in a much better shape that I have been in in a long time. My confidence, too, is amazing now!", declares Alexandra.
THE EXPERIENCE
"My favourite part of coming to the studio are my Dermology sessions. I get to take a 20 minute nap before getting on the L250 for 30 minutes. The best part is that I enjoy my relaxation time followed by exercise,  so it feels like I do two sessions in one go", says a delighted Alexandra.
The HYPOXI L250 is perfect for individuals suffering from back pain and water retention. Combining Dermology with HYPOXI L250 sessions helps to firm the skin, reduce cellulite aids lymphatic drainage and at the same time, supercharges your results!
THE NEXT STEPS
Alexandra continues to come in for her Hypoxi sessions as she knows the key is maintaining her new shape. "I have a pair of trousers that I have been waiting to fit in to for a long time, so I know my HYPOXI journey cannot stop here. In fact, I will sign up for a membership package to really see what the future holds for me."
Have you been trying to find ways to get your pre-baby body back but don't know where to start? Or you just don't feel  you have the time or energy to exercise after the baby? Start your HYPOXI journey with us today with a FREE TRIAL.
Do you also have a busy schedule and are struggling to get back in shape? Let us help you gain your confidence and support you on your weight loss journey with our gentle, technology-based exercise for targeted fat loss.  Book your FREE TRIAL today!