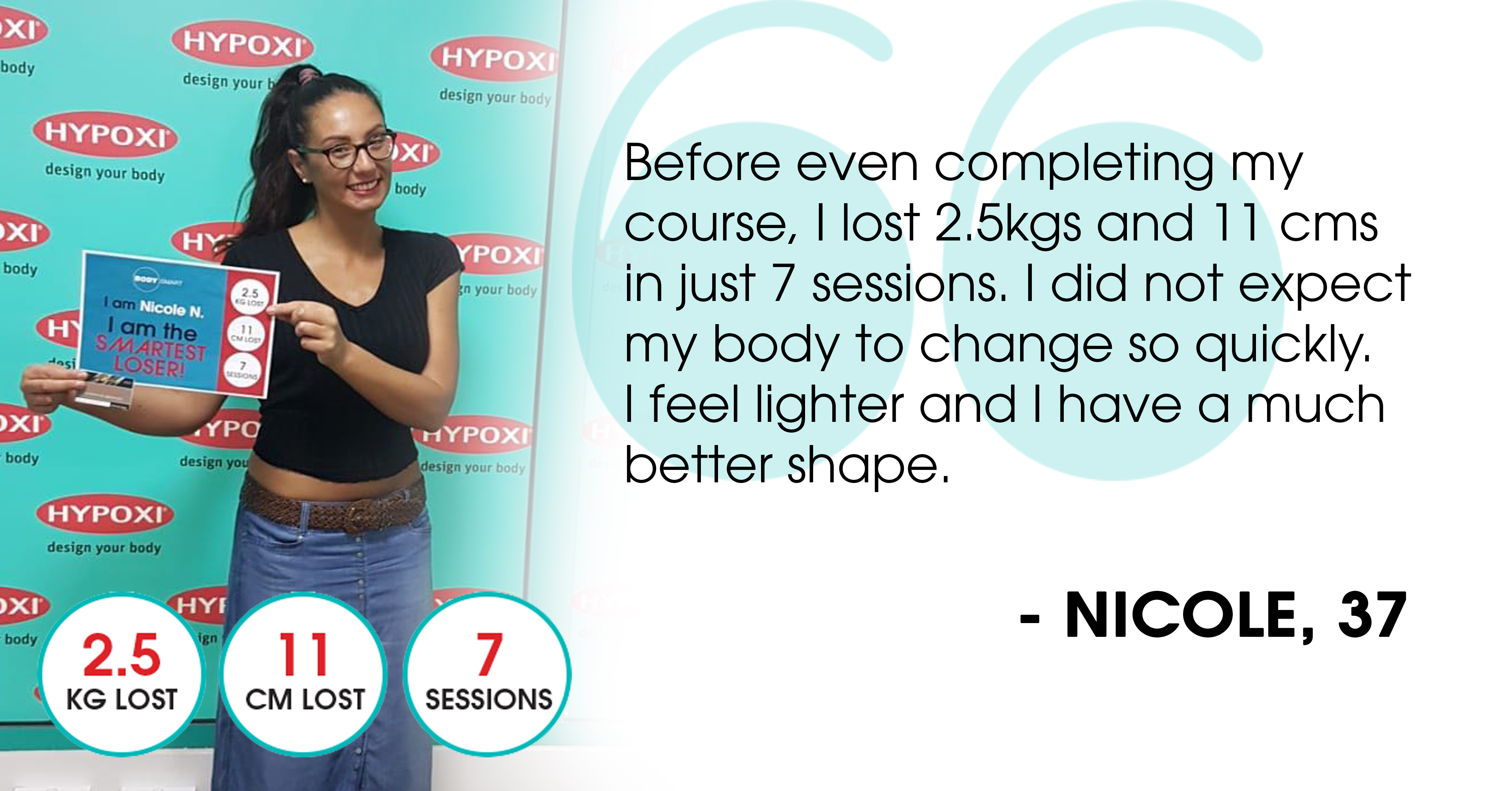 Keeping up a workout routine and eating well can be tough for many people – more so if you are constantly traveling for work.  Meet Nicole, a 37 year old flight attendant who is a complete foodie but recently put on weight after she stopped her fitness regime that kept her in shape.
Desperate to get fit again, Nicole turned to Google to find new and effective ways to lose weight and stumbled upon HYPOXI. She immediately booked in a free trial at BodySmart.
FIRST IMPRESSIONS
"I really did not know what to expect from HYPOXI, but it has been great! I had never heard about the technology and was very curious because I read that it is only a 30 minute exercise that helps to target stubborn fat."  
Impressed not only with the exercise and technology but also with the professional coaches who were very supportive during the trial, Nicole signed up for a course of HYPOXI L250 and Dermology to accelerate her results.
"I was simply very motivated to lose weight since I have a friend's wedding for which I bought 2 dresses. I definitely needed that 'kick' to get started and to look great at the events."
THE RESULTS
Before even completing her course, Nicole lost 2.5kgs and 11 cms in just 7 sessions. "I am so happy with the results, I did not expect my body to change so quickly. I feel lighter and I have a much better shape."
THE EXPERIENCE
I love the fact that it is a gentle, easy and low impact exercise that I can fit into my hectic schedule. HYPOXI makes you work but it is still relaxing – particularly the 20 minute Dermology session prior to L250 which helps me get rid of the water retention from frequent flying.
THE NEXT STEPS
Nicole knows the HYPOXI disciplines have helped her to stay on track. " I find I can remain consistent with the process.  In fact, consistency is THE key with HYPOXI along with simple changes in your nutrition. I will continue with my HYPOXI routine and the new lifestyle I have adapted to maintain my goals."
Are you struggling to maintain your fitness routine with the frequent flying, daily in-flight meals, and all of the treats in new cities you visit? Start your HYPOXI journey with us today with a FREE TRIAL. Call 043638318 or visit www.bodysmart.ae/book-free-trial