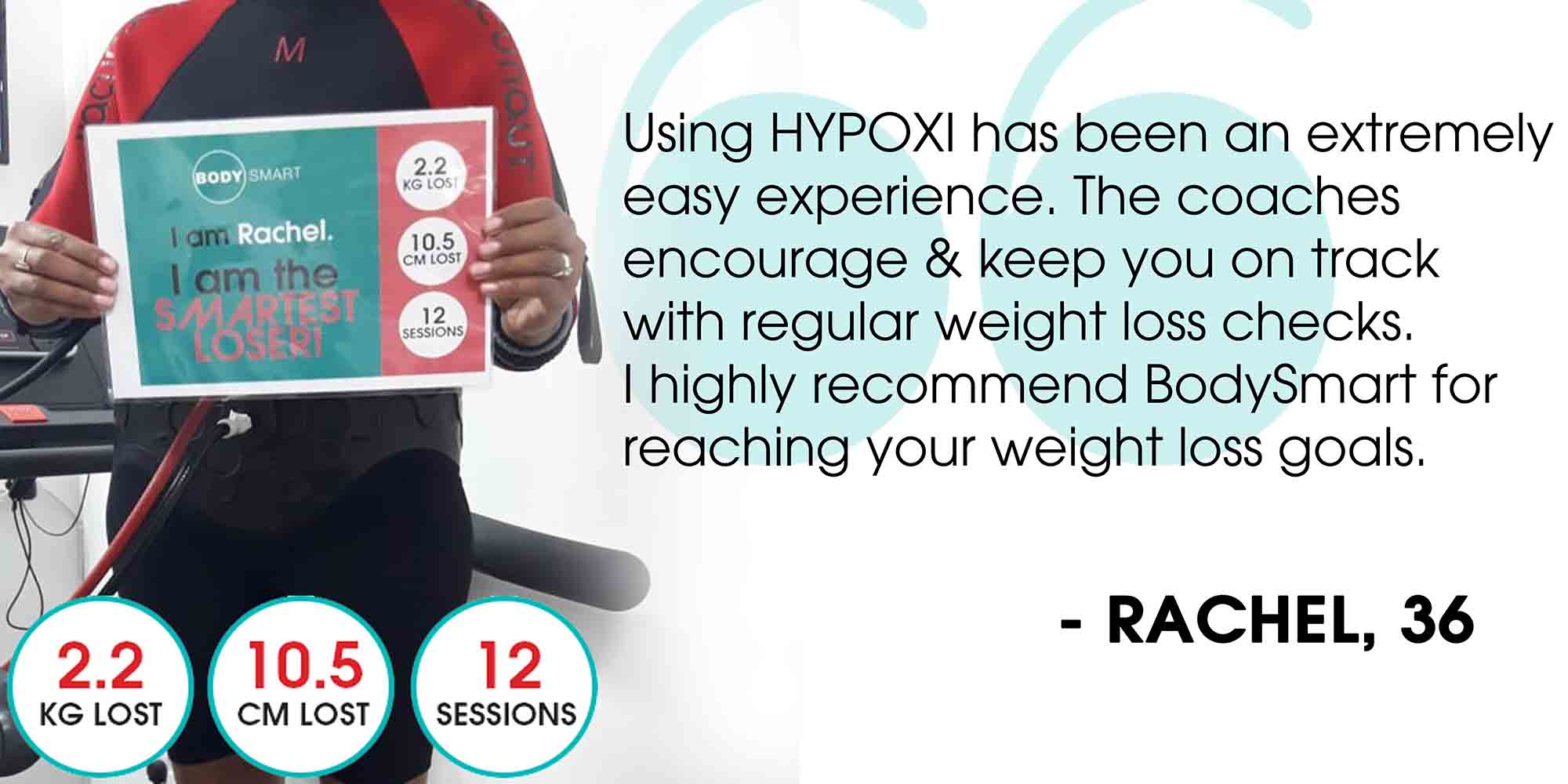 We all know how important it is to exercise regularly and nourish our body with a well-balanced diet to stay healthy. Yet, quite often, despite our best intentions and efforts, we may not get the results we desire.
Meet Rachel, our Smartest Loser for October, who moved to Dubai from the UK 10 years ago and works with one of the well-known international banks in Dubai. She confessed to leading an inactive lifestyle in the past. "Prior to HYPOXI, I simply didn't keep to a diet or exercise plan. I was 7 kgs over my ideal weight with excess fat around my tummy. Then one day, I found out about HYPOXI through a referral from a friend. I immediately decided to give it a try. I called up BodySmart in Breath and Health Alternative Medical Center and booked in for a trial session. "
FIRST IMPRESSIONS
Working in HR, Rachel's impromptu meetings made it difficult to stick to a fitness regime. When she came in for her trial session, Rachel realized how HYPOXI would perfectly slot into her busy life.
"During my trial, I was very impressed with HYPOXI. I knew immediately that I did not need to make any changes to fit the 30 minutes of gentle technology based exercise into my routine. The coaches were very professional and informative. They even kept me motivated during the trial session".  Without a second thought, Rachel signed up for a course of Vacunaut which successfully targets stubborn fat around the belly and love handles.
THE RESULTS
With consistent Hypoxi sessions, Rachel lost an amazing 10.5cms and 2.2kgs in only 12 sessions.  "I won the smartest loser in my first month, so my results were very good."
HYPOXI is known to transform not just your body but of course your lifestyle. "While on the Hypoxi sessions, I managed to maintain a balanced and nutritious diet as well as come in regularly for my Hypoxi sessions.  The whole process made me focus on my eating habits and ensure that I follow the simple nutrition guidelines. It even made me ensure I'm eating enough protein and less carbs.", says Rachel
THE EXPERIENCE
"My favorite thing about HYPOXI is the continual weigh-ins, they helped to keep me on track and stay motivated throughout", says Rachel.
THE NEXT STEPS
Now Rachel knows the key is maintaining her weight. "My next objective is to try and maintain my weight loss. I know where to go after having a naughty weekend."
We at Bodysmart help people achieve their weight loss goals with guidance on nutrition and a
structured plan with Hypoxi's low impact exercise.  We have seen thousands of people achieve their goals. Start your HYPOXI journey with us today with a FREE TRIAL. Call 043638318 or visit www.bodysmart.ae/book-free-trial