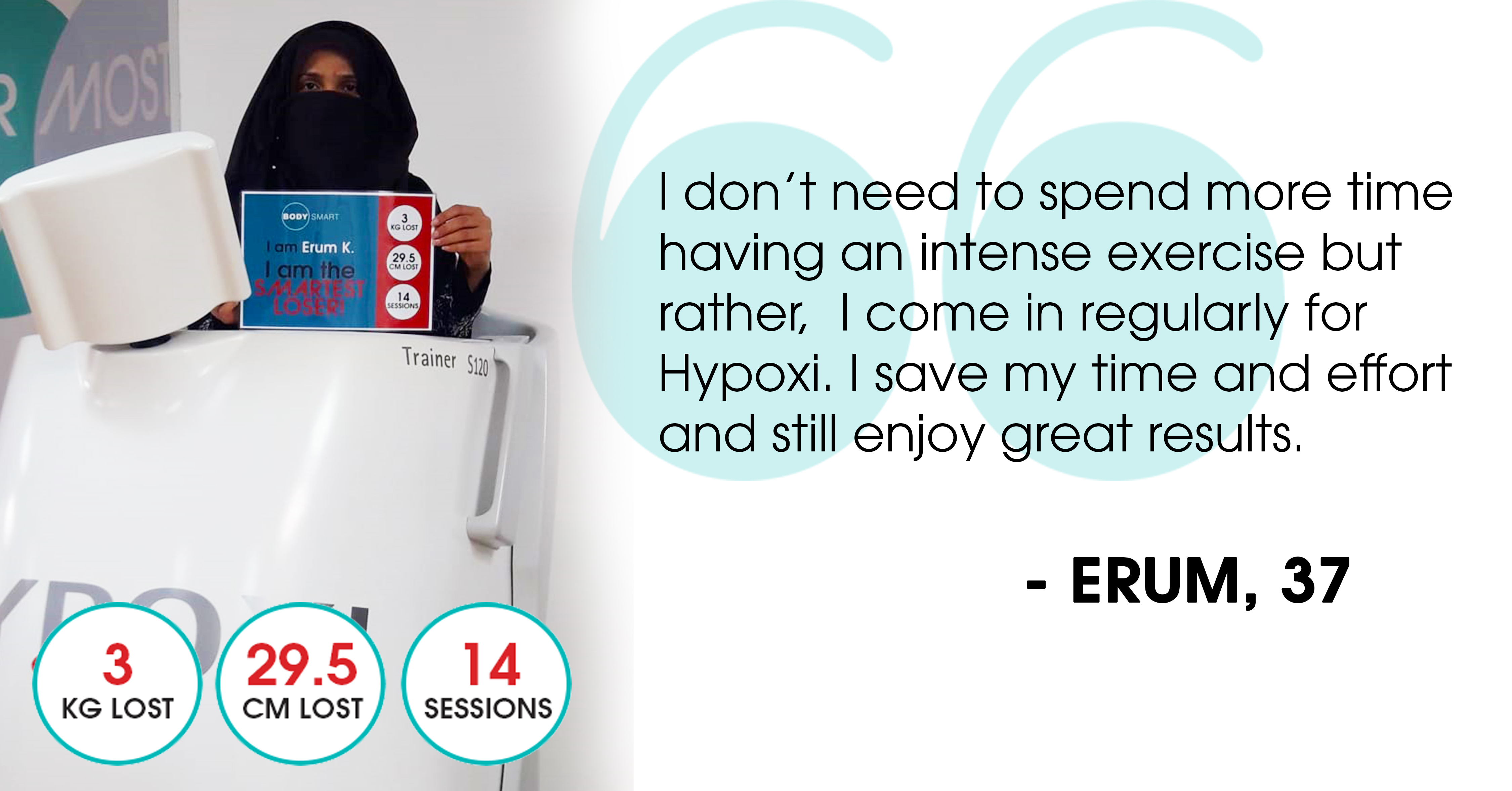 Fat loss can often be a frustrating process. You have tried different diet plans. You lead an active lifestyle and have been a regular at the gym, yoga and running sessions yet, the fat on your lower body just won't budge. Does this sound all too familiar to you? Don't fear as the lower body is a common problem area for women, thanks to the poor blood supply owing to our genetic predisposition.
It was no different for our Smartest Loser Erum Kumail a 32-year-old who was frustrated with several years of effort with little results. Erum even started to believe that getting a perfect body with slim legs would only remain a dream.
She finally decided to search online for an effective and natural solution to stubborn fat and found out about Hypoxi. Without waiting another minute, Erum called BodySmart to book her free trial and consultation.
FIRST IMPRESSIONS
Erum was initially sceptical as she had never met anyone in her circle who had done Hypoxi before. Moreover, she had tried almost every form of exercise and diet which helped her lose weight but never from her problem areas. Nevertheless, she decided to sign up for a course of Hypoxi S120 to target fat and cellulite on her lower belly, hips, bottom and thighs.
A few sessions into her course, Erum could already feel a difference in her body. "I was really happy with my decision to sign up for the Hypoxi program. After only a few sessions, I started losing weight and cms from my targeted areas. I realized that in all these years, it was Hypoxi I was looking for. Yes. It actually works!"

THE RESULTS
Erum lost an amazing 3kg and 29.5cm in just 14 sessions of Hypoxi.
Erum can't describe in words the satisfaction and happiness of achieving the results she has always wanted. "I don't need to spend more time having an intense exercise but rather, I come in regularly for Hypoxi. I save my time and effort and still enjoy great results." she declares.
HYPOXI combines 30 minutes of gentle exercise with technology and healthy nutrition for targeted fat loss. Imagine losing a cm per session of Hypoxi instead of doing 90 minutes of cardio in the gym.

THE EXPERIENCE
Erum is ecstatic about her experience at BodySmart. She thanks the friendly staff who motivated her and were very informative during her Hypoxi journey. In addition, she has noticed how the benefits of Hypoxi extend past weight and cm loss. "I see several positive changes in me. My mind is relaxed, the mood is better, stress levels have reduced, and I have found a level of discipline in my sleep and eating habits that I couldn't maintain before. I feel so light and energetic. More importantly, I have gained back my confidence." Erum elaborates.
THE NEXT STEPS
A very positive Erum affirms "I will definitely continue with a maintenance program of Hypoxi at BodySmart." says a happy Erum.
Are you struggling with fat and cellulite in your problem areas despite regular exercise? We at BodySmart will help you obtain the body you want without resorting to surgery or invasive treatments. Contact the nearest HYPOXI studio today! Book your FREE TRIAL. Call 043638318 or visit www.bodysmart.ae/book-free-trial