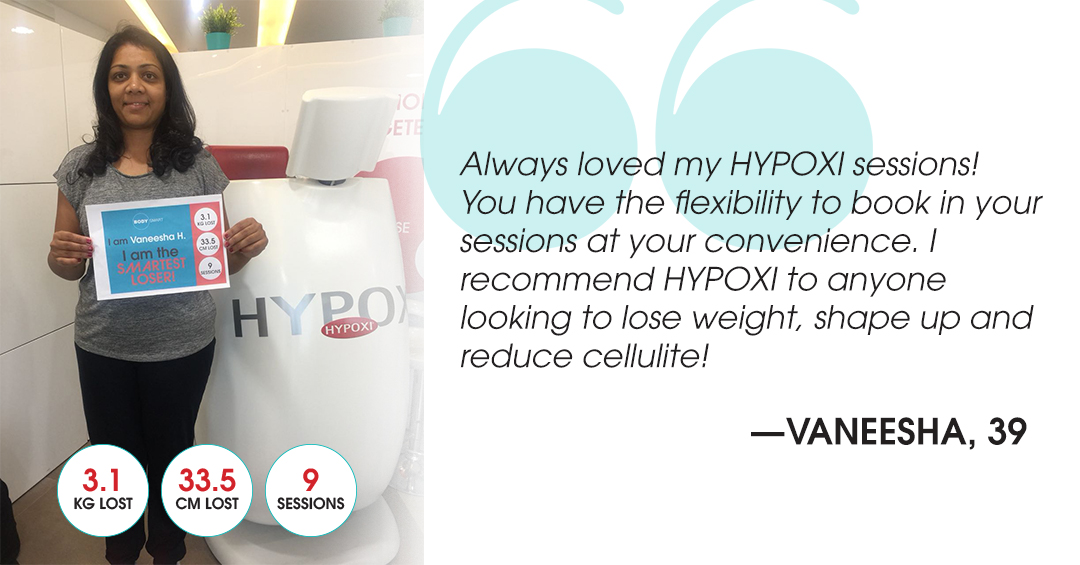 Meet Vaneesha Hurrychurn, our Smartest Loser whose busy schedule combined with bad eating habits and inactive lifestyle brought her to BodySmart.
Vaneesha juggles between being a mother of 2 kids and school duties as a learning support for special needs children, which made it difficult for her to squeeze in some "me time" to take care of her nutrition and own body shaping goals.
FIRST IMPRESSIONS
Vaneesha wanted to lose weight, reshape her body especially in her target areas such as the bum, hips and thighs along with reducing cellulite. She then heard about HYPOXI through her husband who works with one of BodySmart's corporate partners.
"I thought about how unhealthy my eating habits and inactive lifestyle made me. I knew the time to make a change was NOW and booked in for a free trial and consultation at BodySmart."
With the staff being very welcoming and knowledgeable, Vaneesha was confident to start her weight loss journey immediately along with the motivation of the coaches"
THE RESULTS
Before even completing a full course of HYPOXI S120, Vaneesha has lost 3.1kg and 33.5 cm.
"In just 9 sessions, I dropped a dress size and I definitely can say HYPOXI REALLY WORKS!"
Of course, consistency is the key to seeing long term results! She claims "I've always had chocolates and crisps in between meals and have always been indulging in desserts. My food habits are now more disciplined and it makes me feel healthier and rejuvenated!"
Vaneesha'a goal is to lose more weight and centimeters around her stubborn areas and to reduce cellulite to smoothen her skin.
Thanks to Hypoxi, she proudly declares that little changes in her lifestyle added up to huge results. "I love HYPOXI and would not trade it for anything!"
Make time for yourself despite a busy schedule. Let us support you on your weight loss journey with 30 minutes of gentle, technology-based exercise for targeted fat loss.  Book your FREE TRIAL today!