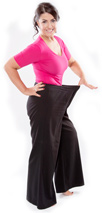 If you want to lose belly fat fast and permanently, the safest way is to hit the gym and do a couple of sit-ups. Yes, there will always be slimming products and equipment out there thanks to technology, but nothing beats a quick jog around the block and a proper dietary plan. As much as working out is effective, however, many people find it too tiring and tedious, leaving them lazy enough to stay in bed all day. It is a common misconception that weight-loss medications are viewed as replacements for exercise and balanced diet, so in order to keep yourself motivated in waking up early to do your daily workout routine, these tips will help:
GET A GYM PARTNER WHO CAN PUSH YOU TO WORKOUT
If you want to lose lower belly fat fast, then you might want to start looking for a good friend who can inspire you to get up from your couch every day and exercise. It helps to have some company for a task that is very exasperating. However, it is only right to return the favor by encouraging your gym partner when he or she feels unmotivated under the weather as well. Also, it would help to find someone who knows a lot about the proper workout routines, especially if you have just started going to the gym.
SLEEP EARLY SO YOU CAN WAKE UP EARLY
If you want to learn how to lose belly fat fast at home, the first thing you need to know is that you should stick to your schedule. Why? Because when your time to workout has passed, you would already feel uninterested in pushing through with your routine. The best time to do your exercise is in the morning, when the temperature is just fine. However, if there will be conflict with your schedules such as work, you can simply adjust your workout timeframe, but it is important you stick to it. In addition, it is important for you to remember that you should not compromise the right amount of sleep as it will cause your body to shut down if you force it to work without enough rest.
KNOW THE RIGHT KINDS OF WORKOUT FOR YOUR BODY
There is no specific lose belly fat fast workout that can universally be compatible with any person. Instead, there are sets of exercises that are apt for one person, depending on his or her size and shape. The best way to learn about the right type of exercise for your body is to ask someone experienced from the gym or a professional fitness trainer. Each part of your body has exercises that can develop it as well. Your stomach, for instance, can be formed through sit-ups, while your upper body can be modified through pull-ups.
To know more about safe weight-loss procedures and slimming experts, click here to contact us.