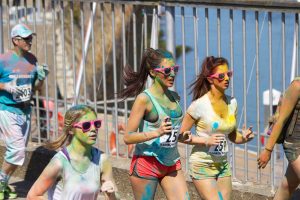 Belly fat, no one likes it and no one definitely wants it. The problem is that, you can't hide it either. And no matter what you do, you just can't seem to get rid of it. You look at yourself in the mirror and that is all you see. We understand that you want to lose belly fat fast because it sure is not a pretty sight. How do you do that? We are going to give you three effective steps in losing that unwanted belly fat. But you also have to keep in mind that it takes a lot of effort on your part in order to achieve your goal. If you follow these very simple steps, it will not take you years to lose that unwanted fat. In fact, it will only take months if you are dedicated and determined.
What are the 3 effective steps to losing belly fat fast and permanently?
Lose your belly fat through proper diet.
Burn fat by exercising.
Avoid fat from ever coming back by living a healthy lifestyle.
Yeah, you think you have heard all that but have you really put much effort in it? Belly fat is probably the hardest fat to get rid of. There is no shortcut and no easy way to do it. If you want it done, you need to be strict and follow your program to the letter. Many of us think that we can get away with cheating on some days. Of course, you will lose weight even if you cheat but you will still see that belly bulging every time you look in the mirror. So let us discuss these steps on how to lose belly fat fast.
Why do you need proper diet when you are exercising anyway? You say that whatever you eat, you will burn it off at the gym anyway, right? Wrong! People count calories and they think it is okay to eat 1200 calories worth of pizza because that is the recommended calorie intake if you want to lose weight. What they do not realize is that 1200 calories of junk food is different from 1200 calories of fruit and vegetables. The calories you counted on that several pizza slices did not include the trans fat that you also ate. The sugar and fat in the 1200 calories of McDonalds and ice cream was not taken into consideration either. So be careful what you put in your mouth. Always choose to eat healthily.
Burn fat by doing cardio exercises coupled with some weight lifting. Doing 1000 crunches a day is not going to help you lose belly fat fast. You need to combine different exercises in order to burn fat and then tighten those muscles in your tummy area. Remember that muscles burn fat faster so if you build some, you will burn more fat.
When you have reached your goal, do not ever go back to your previous lifestyle. Say goodbye to belly fat permanently by choosing to live a healthy lifestyle. You can also take advantage of HYPOXI Solutions to help you lose belly fat fast. Learn how by clicking on this link.