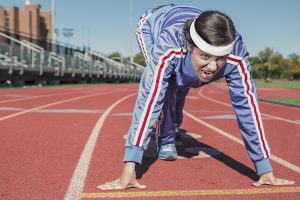 We all want a flatter stomach. Others think that it is hopeless for them to achieve this but they can never be more wrong. However, it is not to say that the road to victory is not without challenges. It is not for the weak of heart. It takes determination and tons of discipline. Nowadays, people want everything easy including food. Everywhere we look, there are fastfood chains that make it challenging for mere mortals to reduce stomach fat. At night, in the bars that people like to go to with friends to unwind and relax, it would  seem unusual to order water rather than beer on a Friday night. So, with all that going on around us, how do we achieve that dream of having a flat tummy?
Here are 5 easy ways to reduce stomach fat
Be committed and motivated. The first step to actually losing weight and losing that unwanted belly fat is for you to decide that you are going to. Everything boils down to your decisions. When you have done that, you need to be committed and stay committed. If you waver, think of the progress you have made and the hard work you put into it. Your brain is more powerful than you think. If you need to, look for someone whose goals are the same as yours so you can motivate each other.
Eat the right kind of food. More fruits and vegetables rich in fiber are what's good for you. Avoid processed food as they do nothing but add numbers to the scale and give you all kinds of diseases. Go organic if you can. Eating the right diet does not mean always mean eating less. It just means eating less junk.
Sleep. Our body needs sleep and not just 3 or 4 hours each day. We need at least 7 hours of sleep each day. If the body does not get the rest that it needs, it does not act normally. Studies have shown that those who are not getting at least 7 hours of sleep each day gain more pounds than those who do. Listen to your body and pay attention.
Unwind. Stress is a big factor why people tend to eat food that they should not. It makes you crave for fatty food or high in calorie food such as sweets. If you or people around you are noticing that you are way too stressed, you need to do something about it. If you are stressed with work, maybe it's time you take a vacation. You don't have to wait for Summer or the Holiday season.
Exercise. Although it is good and well that you are eating the right kind of food, it is also crucial that you do the right exercises. Remember that muscles burn fat. Consult your instructor what exercises are best to perform in order to reduce stomach fat.
If you want to know more on how to reduce stomach fat, here are other ways from BodySmart that make it easy. Read here.