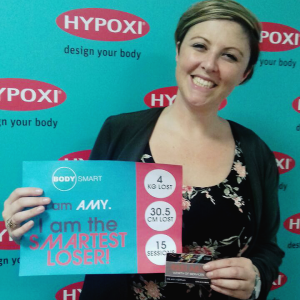 I'm really happy with my results. I feel more confident in what I wear and how I look thanks to HYPOXI.
Self-care and self-love is something we as humans have yet to master. Whether it is a busy work schedule, your first child, a growing family or a physical discomfort, we have all been guilty of coming up with an excuse to put off taking care of ourselves at one point or another.
This is the kind of situation Amy found herself in. At 35, Amy has been living in Dubai for nearly 3 years. The demands of working in the advertising industry had left Amy with little to no time to pay attention to her own health and lifestyle. On top of that, she has an existing back injury that makes staying active even more of a challenge. For a long time, this feeling of dissatisfaction in her own inactivity went unaddressed until, finally, Amy reached her tipping point and thought, "I am fed up. It is time for something different."
"I found out about HYPOXI through Facebook and Instagram," Amy recounts. "After seeing an advertisement, I signed up for a free trial of HYPOXI and quickly heard back from them. Just like that, I had my session scheduled at my preferred time."
THE FIRST IMPRESSIONS
"My trial session and consultation was very informative," Amy describes. "When I came in, everyone was very friendly and knowledgeable about the product, I quickly understood the concept and realised how a 30-minute HYPOXI session can easily fit into my schedule."
HYPOXI is a low impact, high outcome technology-based exercise that is scientifically proven to be 3x more effective at targeted fat burning on the belly, bottom, hips and thighs than regular exercise.
THE EXPERIENCE
"My favorite thing about HYPOXI is, because it's easy and gentle on the body, I do not feel any flare ups in my back," Amy declares. "With HYPOXI, I am reassured that exercising will not hurt me and that's very important."
THE RESULTS
Since her free trial, Amy has signed up to HYPOXI and has been coming in consistently for the recommended 3 sessions a week. Upon completion of her full course, her weight and measurements were taken and compared to her initial stats, which showed that in less than a month, Amy has lost an impressive 4kg and 30.5cm around her lower belly, bottom, hips and thighs. When asked about her results, Amy cited her recent trip back to her home country as a proof of her visible results, "People really noticed my progress!" Amy admits that since she has dropped a dress size, she has been buying smaller clothes, "I'm really happy with my results. I feel more confident in what I wear and how I look thanks to HYPOXI."
Amy continues to travel often and her job still requires her to work the occasional long hours, but she observed how much more mindful she has become of her diet and overall health, "Now I really try to plan ahead because, aside from doing HYPOXI, I also want to help myself achieve great results." We at BodySmart agree—with better nutrition comes better results!
Have you been waiting for the "perfect" time to start your transformation? Book a FREE trial today and take advantage of our ongoing promotions to kickstart your weight loss journey with our technology-based solutions.