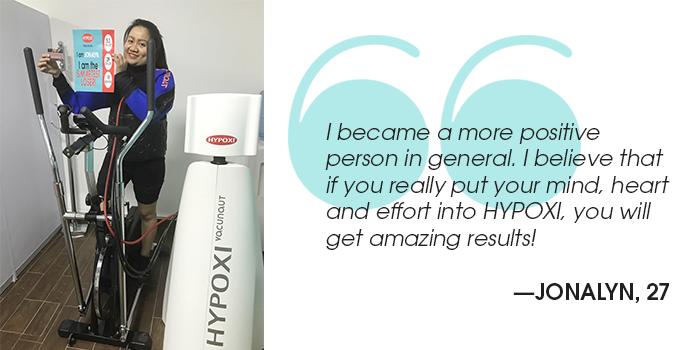 Long hours at the gym, several kilometres of walking and all sorts of crash diets. If you have already tried all this to lose weight only to get little to no satisfying results, don't get frustrated. You are not alone. This is simply because not everyone is blessed with the best genes that allow us to put in little effort and get maximum results. For the rest, there is HYPOXI.
Jonalyn is a 27-year old professional who has always been conscious of her weight and figure. Despite her busy work schedule as an Executive Secretary in a construction firm in Dubai, Jonalyn still puts in the effort to look after herself. "I enjoy walking and cycling," she reveals, "Although it helped me lose some weight, my belly area continued to be a problem no matter what I did."
Frustrated by her lack of progress in this area, Jonalyn took her search to Google where she found out about BodySmart. She signed up for a free trial of HYPOXI and never looked back.
FIRST IMPRESSIONS
Jonalyn visited BodySmart's HYPOXI Studio in Beauty Connection Spa where she began with a free trial and consultation with an expert HYPOXI coach. She discussed her goals and problem areas with her coach who determined the right HYPOXI machine and program for her. For someone like Jonalyn whose problem area is the stomach, the recommended course is HYPOXI Vacunaut, which targets the lower belly and love handles.
In order to understand better how HYPOXI feels, Jonalyn was given a free trial session of Vacunaut where she wore a Vacunaut pressure suit and exercised lightly for 30 minutes. "I was doubtful at first," she admits, "but because it looked easy and effective I decided to give it a try. I'm so glad I did!"
THE RESULTS
After 19 sessions of HYPOXI, Jonalyn successfully lost a total of 5.9kg and 29cm around her mid-section. Jonalyn attributed her impressive results to her coaches' continuous support and the HYPOXI Disciplines she now religiously follows, "I am now so much more conscious about my health and what I eat because of it," she declares.
When asked about HYPOXI's impact on her life, she explains that being able to target her stubborn belly fat made her more confident, "I became a more positive person in general. I believe that if you really put your mind, heart and effort into it, you will get amazing results!"
Are you also an apple-shaped woman who find it hard to shift stubborn belly fat? See how far our HYPOXI Vacunaut can take you. Book your FREE TRIAL today!