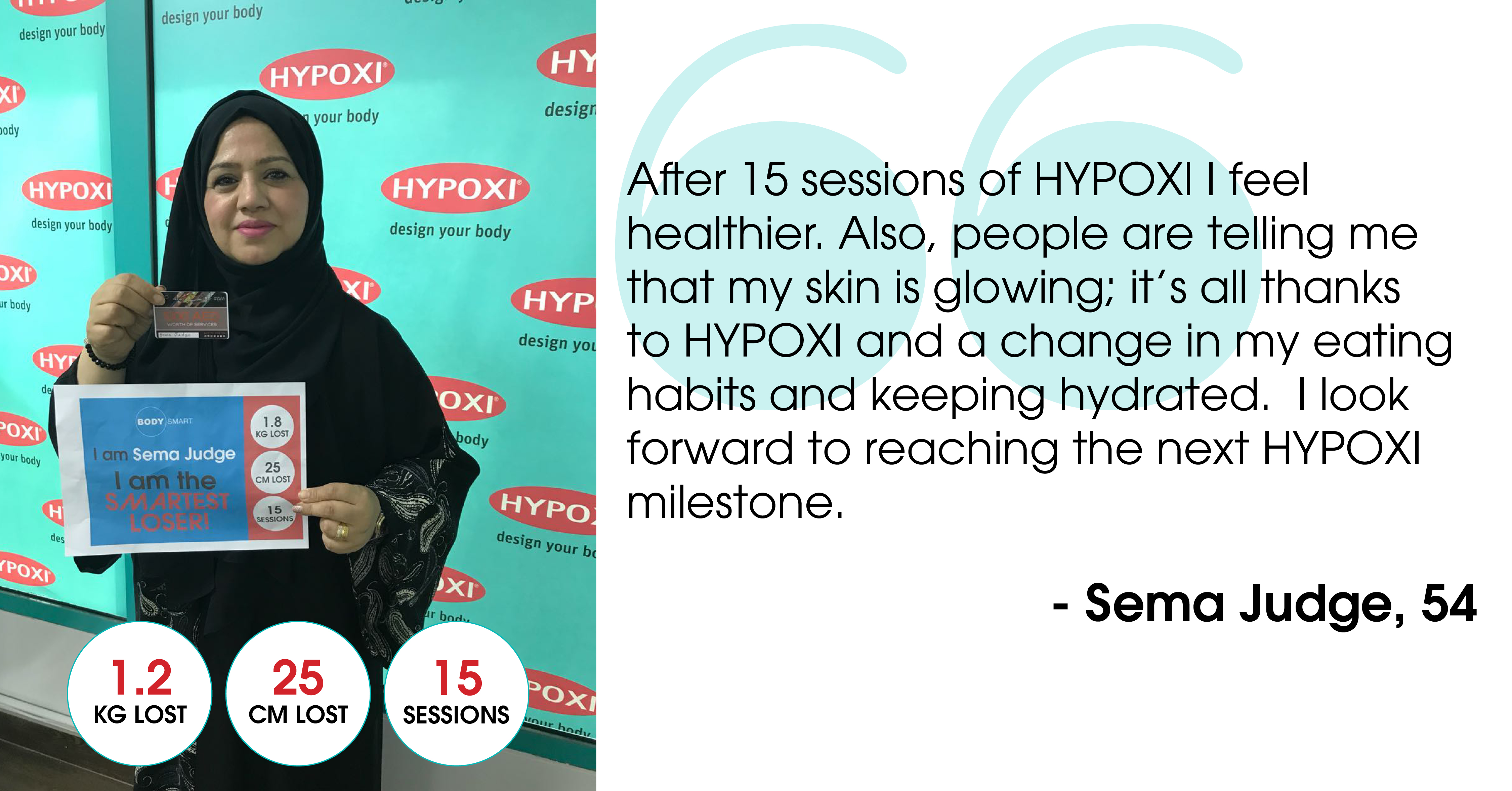 Meet our Smartest Loser, Sema Judge who works at the Ministry of Education and struggled to find the motivation to exercise. On many occasions, her doctors advised her to exercise to prevent the onset of diabetes and heart disease that runs in her family.
 "I tried to start a walking regime every day, without success – it lasted only a few days. I was not happy with the way I looked. The sedentary lifestyle accompanied with eating on the run created disastrous results for my mind, body and health. What was my shape like – don't ask, let's just say I was not happy!"
FIRST IMPRESSIONS
Trying to overcome her unhappy state of mind, Sema browsed through the internet and found out about HYPOXI in BodySmart. Intrigued, she read more about the technology-based exercise that HYPOXI offers.
"I wasn't sure about how HYPOXI would deliver the results it proposed to deliver. The free trial helped me understand how the process works, yet, it still seemed too good to be true. However, I am willing to give everything a try and with that, my HYPOXI journey began."
THE RESULTS
Sema decided to begin HYPOXI because it seemed to be a less taxing option in terms of physical exertion. She combined the S120 with Dermology and was surprised that she lost 1.8 kgs and 25 cm in just 15 sessions of gentle exercise.
"My results were amazing – I couldn't believe the change in the shape of my body in such a short time. I even got to enjoy a 20 minute nap during my Dermology sessions."
Sema also shares that the most important result is that she feels healthier. "I noticed that my energy levels have increased, my outlook on life is brighter and I began to re-introduce my old wardrobe, which was sitting in my closet unused. Thanks to HYPOXI and the support I receive from both my coaches throughout the program."
Health is wealth; so make sure you set aside some time to keep yourself active and take note of your food portions. Let us help and motivate you on your weight loss journey with 30 minutes of gentle, technology-based exercise for targeted fat loss. Book your FREE TRIAL today!