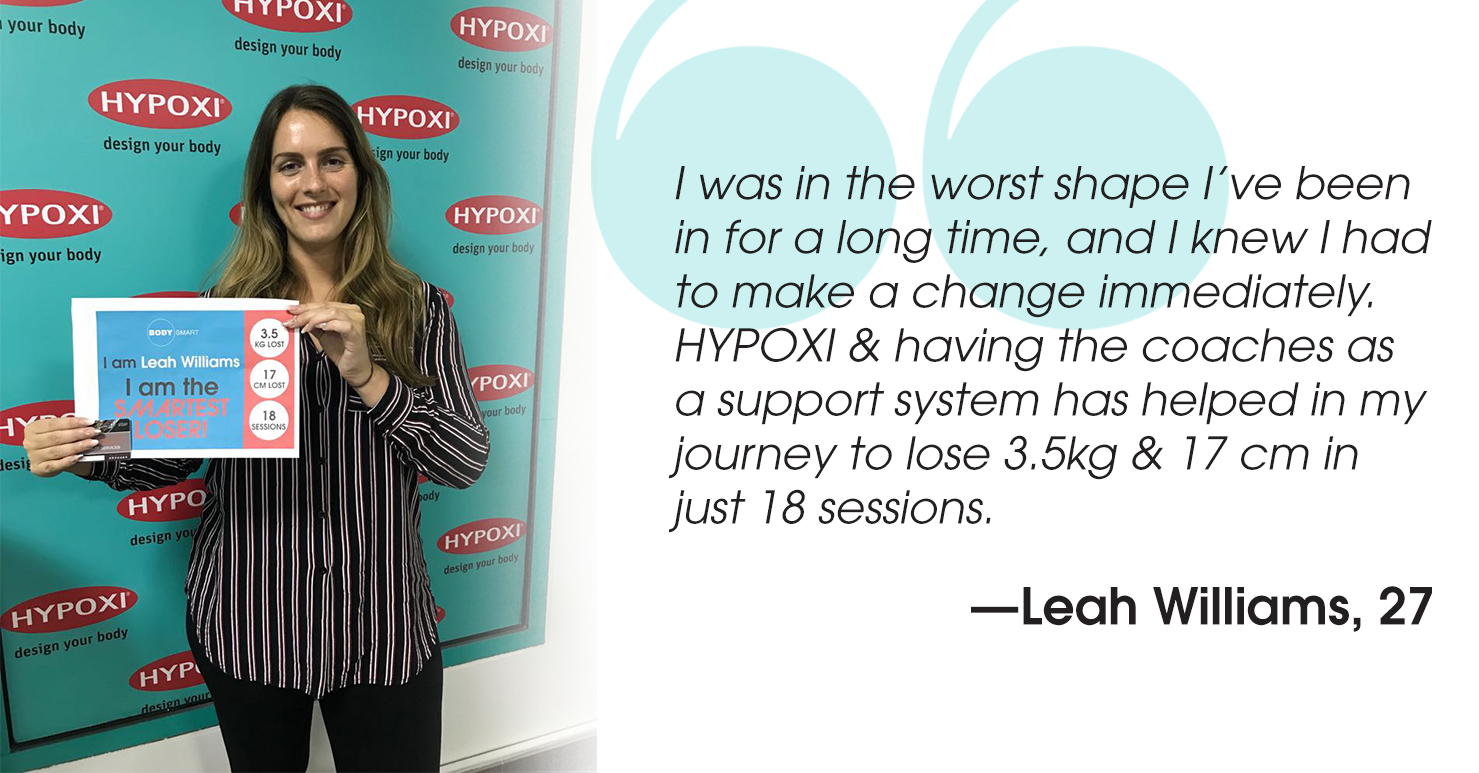 Do you feel like you are in the worst shape you've ever been? Is your busy schedule coming in the way of making a healthy lifestyle change? Meet Leah Williams, our Smartest Loser who got too comfortable with the luxuries Dubai provides and did not really look after herself enough.
As a VIP relations manager, she often works from 7 am – 6am with parties and drink receptions.
FIRST IMPRESSIONS
Leah first heard about HYPOXI during her time in London but did not explore it in detail. Being 22, she did not want to commit herself to exercise.  Once she moved to Dubai, she soon fell into an unhealthy lifestyle and knew she desperately needed a change. She looked online for a HYPOXI studio nearest to her and immediately booked in for a free trial and consultation at our studio in Beauty Connection Spa.
"With the team being very informative and being the type of person who says 'if not now, when?' I signed up for a combination course of Dermology and HYPOXI L250 to help me target my problem areas".
THE RESULTS
After 18 sessions of Dermology and HYPOXI L250, Leah has lost 3.5kg and 17cm.
"I react to my environment; Hypoxi & having the coaches as a support system has helped me in my weight loss journey. I noticed the muscles have become much firmer on my legs from cycling, and I have lost fat on my lower belly, hips, bum and thighs."
Often, the problem is finding the motivation to keep going. Seeing amazing results really quickly from just using Hypoxi 3x a week, she proudly claims "When you feel that you look good, you feel good, both on a confidence and mentality state. People at work noticed and commented positively about my physique in just a couple of weeks which made me feel more confident."
Leah has a wedding at the end of May for which she is putting off buying an outfit so she can be surprised to see how many dress sizes she has dropped! "You have to be realistic. You cannot live your life being super strict or flamboyant and need to understand what food is good for your body."
With Hypoxi, Leah learnt that little changes go a long way. She has always loved large portion sizes, but now makes smart decisions. "Following the disciplines and maintaining portion sizes is an easy change to make!"
Leah's advice to all those looking to start their weight loss is to start immediately; "Do not wait till tomorrow or after Ramadan, don't put things off. If you delay it, you will never do it."
Do you also have a busy schedule and are struggling to get back in shape? Let us help you gain your confidence and support you on your weight loss journey with our gentle, technology-based exercise for targeted fat loss.  Book your FREE TRIAL today!